Venice floods: St Mark's Basilica in Venice suffers 'significant damage' with historic tides
13 November 2019, 11:45 | Updated: 13 November 2019, 11:46
The historic church, which dates back to 1092, has been swamped with water following the city's highest tide in 50 years.
St Mark's Basilica, which has seen music performances from the likes of great Baroque composers Vivaldi, Monteverdi and Gabrieli, has been flooded following high tides which have impacted the entire city of Venice.
Last night saw the highest tide in more than 50 years, peaking at 1.87 metres. Waters swamped the city's famous canals, flooding squares, houses, shops and the 11th-century Basilica.
People worked through the night to clear water from the historic mosaics that adorn the floor of the building, situated in St Mark's Square. According to church records, this is the sixth time the building has been flooded in its history.
The Mayor of the city, Luigi Brugnaro, tweeted: "Venice is on its knees. St Mark's Basilica has suffered serious damage, as have the whole city and the islands."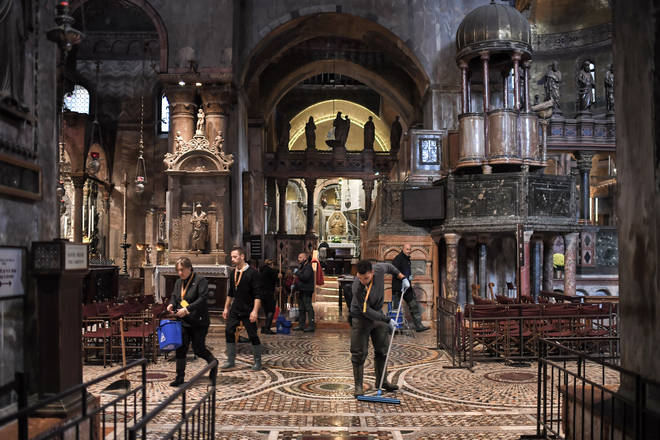 Brugnaro blamed the flooding on the effects of climate change and urged protection for the city from rising sea levels.
The floods have so far claimed the lives of two people on the nearby island of Pellestrina. Italy was hit by heavy rainfall on Tuesday, with more wet weather forecast this week.
The Mayor also pledged that the long-delayed MOSE project, designed to protect Venice and the Venetian Lagoon from tides of up to three meters, will be completed. It began in 2003, but has been continually set back by cost overruns, scandals and delays.
Over the centuries the Basilica has been one of the world's most important places for Baroque music.
As a young man, composer Antonio Vivaldi's was believed to have occasionally played in the Orchestra of St Mark's.
Baroque composers such as Monteverdi and Gabrieli wrote large-scale religious works for the vast, elaborate building.