St John's Smith Square in danger of closing
19 April 2018, 16:29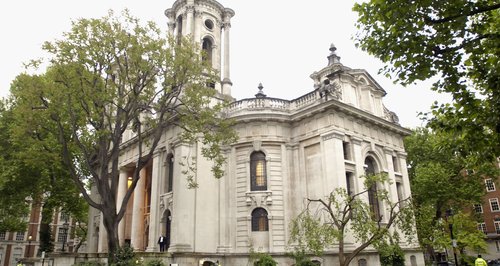 The iconic central London venue has said it needs to raise £200,000 a year or it could be forced to close 'by the end of next summer'
In an article in The Times, the director of St John's Smith Square Richard Heason said that if the venue didn't find "another source of extraordinary money of some sort, then the money would run out by the end of next summer".
According to a statement on the venue's website, St John's Smith Square's annual operating costs are around £1m-£1.25m each year.
The venue says that it covers about 80 per cent of those costs with a combination of ticket sales, hiring out the hall and income from the bar and café. But it has an annual deficit of £200,000-£250,000.
The Baroque church in Westminster, just behind the Houses of Parliament, was built between 1714 and 1728 but was badly damaged in the Blitz.
The church was eventually restored and turned into a concert venue in 1969. Since then it has held over 300 concerts a year, with a particular focus on Baroque and early music. Most recently it also housed the Southbank Centre's International Piano series while the Queen Elizabeth Hall was being refurbished.
The church also has a well-respected young artists programme, which has recently supported the careers the Ligeti Quartet, harpist Oliver Wass (below) and pianist Christina McMaster.
The venue has relied on fundraising and gala concerts to make up the shortfall. But, the website says, "to depend on such unpredictable sources of revenue funding to cover our core costs, year after year, is unsustainable".
A fundraising campaign has been set up with the aim of raising £250,000 this year and £5 million over the long term.
A statement on the website said: "The trustees and management are confident that with prudent management the organisation can continue to operate normally until at least the summer of 2019.
The financial challenge, whilst it is serious, does not present an immediate threat to current operations and business continues as normal."
Writing in The Times, journalist Richard Morrision said: "So a magnificent concert venue situated a stone's throw from parliament and Whitehall could well close in 18 months' time. The symbolism of that won't be lost on musicians and music lovers. They will see it as emblematic of the political establishment's abject indifference to the survival of serious culture in this country."
Musicians have been adding their voices to the campaign on social media.
St John's Smith Square is much more than a venue. We were nurtured as Young Artists in residence last year, given expert guidance and opportunities from this iconic institution. A generation of musicians and audience would lose out if St John's closed. https://t.co/3ZNXB4mgxn

— Minerva Piano Trio (@MinervaPnoTrio) April 13, 2018