Pupils banned from taking large musical instruments on school buses
16 March 2018, 11:21 | Updated: 16 March 2018, 15:02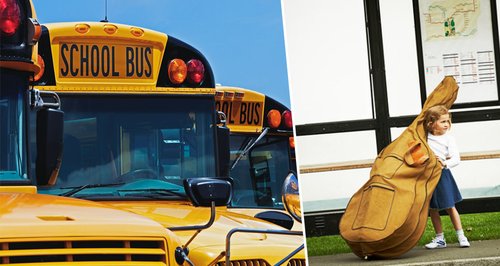 A new school bus policy in Ontario, Canada on 'oversized equipment' will prevent pupils from bringing home musical instruments bigger than a clarinet.
The policy says that 'oversized equipment' like musical instruments, or anything that can't be stored under the seat, will not be permitted on school buses.
It was introduced at the end of January by Southwestern Ontario Student Transportation Services, the company that runs school buses in the region.
Music teachers have reacted with shock and dismay to the policy, fearing that students won't be able to bring home their instrument to practise.
I am shocked and embarrassed that STS is allowed to BAN all music instruments from busses.
WHO IS ALLOWING THIS TO HAPPEN!!!
Come on TVDSB....
Fix this - now - please Someone stand up and stop this. #TVDSB #tvdsbarts #lockespride @Lockes22. @mybigyellowbus

— Seth McNall (@mrmcnall) January 31, 2018
"Disppointed and dismayed that music education is being negatively impacted by today's memo. Music students need to practise for their homework, they need to take their instruments home! Our subject is just as valuable as all others," said Helen Cooker on Twitter.
Music teachers were concerned that pupils who play larger instruments like the cello, tuba or French horn would find themselves unable to practise.
"The tuba is JUST as wonderful as the flute!" WildcatMusic tweeted.
CAO of the transport service Maureen Cosyn Heath told CBC News that the policy "aligns with the current practice that is in place".
"School bus routes are designed to transport students on a daily basis between their homes and schools [...] in a shared space environment and while these vehicles are in constant motion, including the need to make frequent stops, having proper controls for securement are very important to continue to deliver a safe service."
#BellLetsTalk about how unfair @TVDSB @mybigyellowbus new policy is banning musical instruments on school buses. What is that going to do to rural or all-bussed music programs w parents unable to drive them everywhere? Not cool!

— Julie Worrall (@mrsjworrall) February 1, 2018
A spokesperson for the Thames Valley District School Board told CBC news that while the policy should ensure pupils' safety in compliance with the Highway Traffic Act, the board recognises music teachers' concerns.
"(We recognize) the concerns of school communities regarding the transportation of oversized musical instruments and senior administration is currently developing measures to reduce any potential negative impact on students in our music programs," said the board.
So I guess our band will have only flutes and clarinets in it now. Or maybe they'll be the only ones who know their parts? This busing policy interferes with our curriculum delivery. @mybigyellowbus #tvdsbarts #MusicEducation @TVDSB @MatthewReid86

— MrsLGracey (@LynnGracey1) February 1, 2018
"It's simply not fair," said Linda Wharton, who taught music in the area for 33 years. She told CBC News: "From a teacher's point of view, if a student has to take an instrument home as homework or to practice for an extracurricular, it's not fair if he's not able to.
"The classroom time with the instruments is limited, so it's very important to practise. It's a skill-based activity. You have to practise. You have to have face-time with the instrument to progress."