How to keep your pets safe this firework season, according to the RSPCA
21 October 2019, 15:19 | Updated: 22 October 2019, 16:57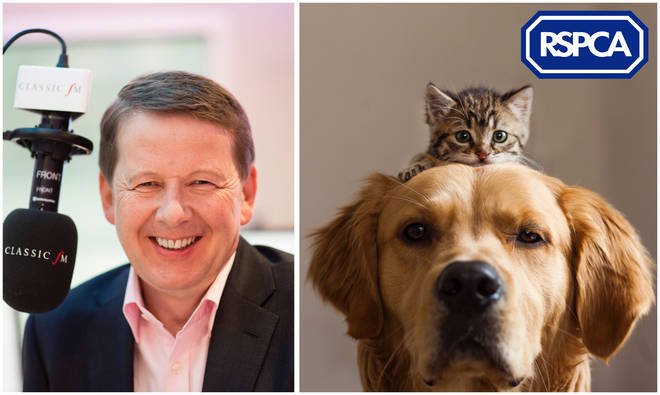 The RSPCA exclusively shares its top tips for pet safety during firework season, in collaboration with Classic FM's Pet Sounds.
We've teamed up with the Royal Society for the Prevention of Cruelty to Animals (RSPCA) for Pet Sounds, our radio show designed to keep pets calm during firework season.
Bonfire night can be a very stressful time for our four-legged friends due to the loud noises and bright lights. So, we've curated a special classical playlist designed to help keep pets – and their owners – safe and relaxed.
Pet Sounds with Bill Turnbull airs at 7pm on both Saturday 2 November and Tuesday 5 November, but in the meantime, we've got all the important information on how to keep your furry friends safe and happy during this stressful period.
The RSPCA has exclusively shared their top tips for looking after your pets during firework season – find them below.
Keeping pets secure
• Give your cat or dog somewhere to hide which they can access at all times – maybe under furniture or in a quiet corner
• Walk dogs during daylight hours and keep dogs and cats indoors when fireworks are likely to be set off
• At nightfall close windows and curtains - put on calming music such as Classic FM to mask the sound of fireworks
• Make sure your pet can't escape if there's a sudden noise, and remember to make sure your pets are microchipped and keep your microchip details up to date
• Never punish your pets when they are scared as this will only make things worse in the long run
• It's fine to comfort your pet if it helps them relax, or leave them alone unless you think they will harm themselves
Just for dogs
• Close any windows and black out a 'doggy play area' so that your dog can't see the flashing lights
• Ignore any fireworks yourself
• Play with a toy to see if your dog wants to join in but don't force them
• Before the fireworks begin move your dog to the doggy play area with all their favourite toys
• Ask your vet for advice about pheromone diffusers and possible referral to a clinical animal behaviourist for help – they can give you advice on how to help your dog become less afraid of loud noises in the long-term.
Just for cats
• Make sure your cat has somewhere to hide if they want to. For example under some furniture, in a cardboard box or in a quiet corner. Don't try to tempt your cat out as this will cause them to become more stressed.
Small animals
• If your pets live outside, partly cover cages, pens and aviaries with blankets so that one area is well sound proofed. Make sure that your pets are still able to look out. Provide lots of extra bedding so your pets have something to burrow in.
Horses, ponies and donkeys
• Check for any firework displays planned locally and, where possible, ask organisers to site fireworks well away from your horse – aimed in the opposite direction
• Keep your horse in a familiar environment, following their normal routine with their usual companions. If your horse is staying in their field, check the fencing is secure and there are no dangerous objects they could collide with if startled.
• If stabled, make sure hay nets are secure so your horse can't get caught up.
• You should stay with your horse if you know fireworks are going to be set off, but do be aware of your own safety – a startled horse can be dangerous.
Pet Sounds airs at 7pm on both Saturday 2 November and Tuesday 5 November. Click here to find out more.