Ralph Yarl, 16-year-old bass clarinettist, released from hospital after life-threatening shooting
18 April 2023, 10:47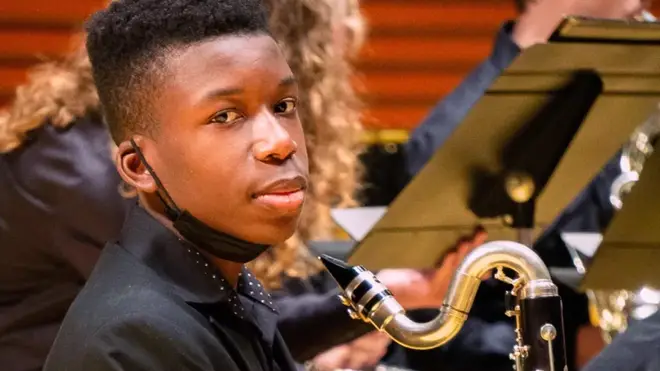 The talented teenage musician is an award-winning performer playing both the clarinet and bassoon in a variety of ensembles.
Ralph Yarl, a 16-year-old clarinettist from Kansas City, Missouri has been released from hospital after he was left with life-threatening injuries following a shooting last week.
The Black teenager was meant to be collecting his siblings from 115th Terrace, but instead arrived at 115th Street in error. Here Yarl was shot twice by the house's white occupant after he knocked on the door of this house by mistake. The assailant has been identified as Andrew D. Lester, an 84-year-old man who as of Monday 17 April, has been charged by local prosecutors with first-degree assault for shooting the teenager.
Described by his family as a "musical genius", Yarl, who plays both the clarinet and bassoon, was rushed to hospital on the night of Thursday 13 April, after being shot at 10.30pm.
While the young musician was said to be in recovery in the following days after the shooting, reports state that he has been left with 'life-changing injuries'. His father, Paul Yarl told local publisher, The Kansas City Star, that his son was released from the hospital over the weekend and is now recovering at home. President Biden also reportedly called the teenage musician and his family to offer prayers and direct encouragement on Monday.
Yarl recently earned a second chair position in the Missouri All-State Band with an honourable mention, and according to his family, is one of the top bass clarinet players in Missouri. He is also a section leader in his school marching band, plays multiple instruments in the Northland Symphony Youth Orchestra, and performs as part of his school's Jazz and competition band.
The musician's family set up a GoFundMe page to pay for Yarl's hospital bills, and donors have already raised well over $2,000,000 for the teenager.
In a statement on the young clarinettist's condition, a lawyer for the family said, "Despite the severity of his injuries and the seriousness of his condition, Ralph is alive and recovering."
The civil rights attorneys, Ben Crump and Lee Merritt, who are representing the family, also detailed that "[Yarl was] shot twice and struck in the head and arm" by the assailant. Having now been charged with first-degree assault, Mr Lester could face life in prison if convicted. The mayor of Kansas City, Quinton Lucas, has described the charges as the 'first step' towards justice for Ralph Yarl.
On Yarl's GoFundMe page made by his family, a statement reads: "[Ralph has] a long road ahead mentally and emotionally. The trauma that he has to endure and survive is unimaginable".
Yarl's story has been shared and platformed by various celebrities such as Halle Berry and Viola Davis, as well as musician and band leader, Questlove, who said in a Facebook post, "I was a Ralph. We were all Ralph".
A mass protest was held in Yarl's name on Sunday evening in the neighbourhood where the shooting happened, with a message of "An attack against one kid is an attack against all."
The young musician was looking forward to graduating high school, according to his family's GoFundMe page, and has hopes to study chemical Engineering at Texas A&M University.
When asked how he would achieve this goal, he told family members, "Well, if they have a scholarship for music or academics, I know I can get it."
In February of this year, Yarl was also nominated to participate in a 15-day choir and orchestra tour of Europe in the summer of 2024. The invitation letter, shared by his aunt Dr. Faith Spoonmore reads that this nomination is a "distinct honour reserved for selected students", and based on "musical abilities, character, and leadership qualities."
On his GoFundMe page, Spoonmore added, "Ralph deserves to have the future he dreams about. He can often be found with a musical instrument – he loves them all.
"Ralph deserves to be the light that shows the world that LOVE wins and that humanity is still Good."