More huge increases in Classic FM listeners under 35
17 May 2018, 00:00 | Updated: 17 May 2018, 07:27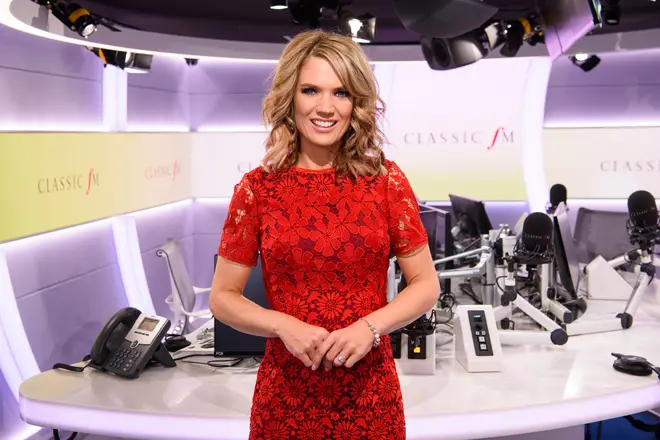 According to figures released today, 5.6 million people now listen to Classic FM every week – and over a million of them are under 35.
In the latest numbers released by RAJAR (Radio Joint Audience Research), Classic FM substantially increased its audience, with over 200,000 more listeners than the same period in 2017.
With over a million listeners aged under 35, Classic FM is continuing to prove that there is a rapidly growing younger audience for classical music. This increase includes a surge in younger listeners: the number of 15-24-year-olds tuning in to Classic FM every week has risen by 66,000 in the last 12 months, to 449,000 people.
These results cover the period January to March 2018, when Classic FM launched a new weekend schedule. Presenters including Charlotte Hawkins (pictured above) and Rob Cowan now broadcast alongside established Classic FM names such as Myleene Klass, Alexander Armstrong and Margherita Taylor – and as today's figures show, the station is attracting a growing audience.
Sam Jackson, Managing Editor of Classic FM, said: "After Classic FM's 25th birthday celebrations in 2017, it's brilliant to have started 2018 with yet more audience increases. Anyone who says classical music is only for posh people and pensioners needs to take a look at the continued growth of our youngest demographic. Classical music is for everyone, and we're really pleased that 5.6 million people now choose to listen to Classic FM every week."
John Suchet's weekday show (Monday-Friday, 9am-1pm) continues to be the most popular on the station, with over 2.7 million listeners every week – an increase of over 170,000 in the last year.
Anne-Marie Minhall also attracts a growing audience: like John, Anne-Marie now brings in over 170,000 new listeners in the afternoon, reaching 2.6 million people in total.
One of the station's biggest successes is Classic FM Drive with John Brunning, which now reaches over 1.9 million people every week – an increase of more than 200,000 in the last year. John also welcomes over 100,000 new listeners to the Classic FM Chart, with 489,000 people joining him for the UK's biggest classical countdown every Sunday evening.
There are good numbers across the rest of the weekend schedule: Bill Turnbull now broadcasts to over a million people on both Saturday and Sunday, Saturday Night at the Movies with Andrew Collins has attracted 70,000 new listeners in the last three months alone, and Aled Jones has grown his Sunday breakfast show audience by 130,000 people.
Classic FM's new signings are also proving to be very popular. With his Saturday evening show, Rob Cowan has drawn in 90,000 new listeners in his first three months on the station, and Charlotte Hawkins has increased the audience on Sunday afternoons by 36,000, now reaching 558,000 people each week.
Over the same period, Classic FM reached more people online than ever before - our videos were viewed over 185 million times on ClassicFM.com and across our social media channels.
Classic FM's Facebook posts drove 8.8 million interactions, meaning more people engaged with Classic FM than any other UK radio brand on the platform.