An orchestra used their mobile phone torches to save a concert from a disaster power-cut
28 May 2019, 17:02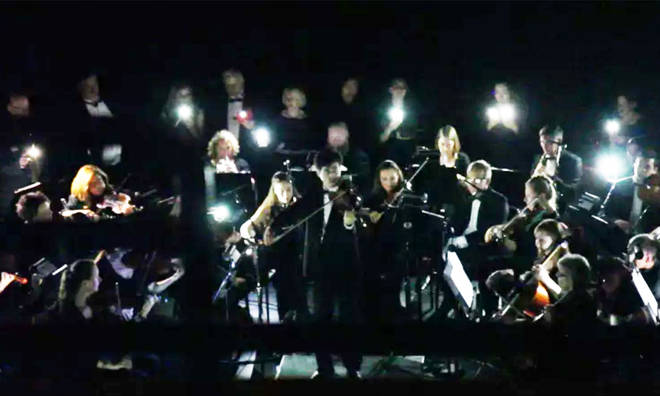 A power-cut could have meant a disaster for a concert in Indiana, before the conductor saved the day using the orchestra's mobile phones.
The Bloomington Symphony Orchestra and their artistic director Alejandro Gómez Guillén were set to perform Mozart's Violin Concerto No. 4 at the Buskirk-Chumley Theatre in Bloomington, Indiana, but an impending storm and subsequent power-cut meant that the concert screeched to a halt.
The concert on 26 May was the orchestra's final one of the season, and a weather forecast of a storm or tornado beforehand had prepared them for the worst. However, as the weather got worse during the day, various parts of the town went without power as trees fell down and cut the electrical supply. One of the effected buildings was the Buskirk-Chumley Theatre where the orchestra's concert was due to take place.
As the orchestra and artistic director Alejandro Gómez Guillén waited backstage without power, they realised they needed to quickly find a solution. Guillén said:
"I didn't even think twice."
"I was really worried about the audience waiting. We didn't know how long it was going to take to fix the power, and people might have to go home, The air conditioner was off. It was dark in there, and people might have felt unsafe in the dark."
Backstage, an idea was brewing that would enable the concert to go ahead – the orchestra players would use their mobile phone lights to illuminate the music, so that's exactly what they did. Molly Brush, a cellist in the orchestra said, "We wanted to do our best for everyone who had come out to see us."
As the concert opened, all the instrumentalists not playing in that piece shone a light on their fellow orchestra members' music, and the concert went ahead with immense success. Brush added that the circumstances had a positive impact on their playing: "Playing in these difficult circumstances, without a lot of our normal visual cues, I think we were listening better and just being more alert and aware of each other."
The electricity outage also meant that the air conditioning in the theatre wasn't working. The auditorium became increasingly hot and after the interval Alejandro Guillén took matters into his own hands: "I told the audience, 'We're going to do this'." He was met by a unanimous cheer from the audience.
"At that moment, boom! There was a little flicker. Everyone gasped." The house lights had bounced back on, and by the end of the piece, the stage lights had also switched back on.
"It was such a community experience and just amazing to feel the support of everyone, to feel that everyone wanted us to do it," Guillén said. "We just kept asking, 'Hey, don't give up on us.'"