Musicians are three times more likely to experience depression, according to study
17 October 2017, 10:20 | Updated: 17 October 2017, 11:11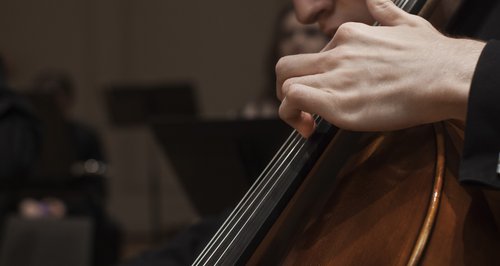 A concerning new piece of research reveals the scale of the mental health crisis facing the UK music industry.
'Can Music Make You Sick?' is a new study commissioned by Help Musicians UK, which explores the effects of a career in music on musicians' mental health.
The study, completed by University of Westminster, investigated 2,211 musicians, 71.1% of whom said they had suffered from panic attacks or anxiety, with 68.5% saying they had struggled with depression.
Researchers Sally-Anne Gross and Dr. George Musgrave cited a few major issues including money worries, because of juggling many different jobs and dealing with precarious and unpredictable pay, and poor working conditions.
They also found musicians were more likely to be subject to sexual abuse, bullying and discrimination – as well as antisocial and unsympathetic working environments.
While relationships with family and the support of close friends and partners are highly valued, they are also "open to abuse and feelings of guilt". Plus, musicians often lack the financial means to seek professional support.
This news follows a recent study in the scientific journal Eating and Weight Disorders which revealed that a third of musicians suffer from eating disorders due to stress, concerts and perfectionism.
Since publishing the study, Help Musicians UK have promised to establish a music industry mental health taskforce, launch a 24/7 mental health service, Music Minds Matter, and to advocate change across the industry.
Christine Brown, director of external affairs at Help Musicians UK, told M magazine: "Help Musicians UK is uniquely placed to commission and share the results of this important, game-changing study. The charity granted nearly two million pounds last year to those that need it most in the industry, so it is a natural step to examine the key issues and make a call to action to help implement wider, lasting change in the industry.
"The British music industry is in rude health and has a world class reputation – but to continue the long-term wellbeing of the industry and its workers, we aim to create a constructive forum for discussion, partnership and collaboration.
"Through the new Music Minds Matter service, we are closer to providing the crucial support, advice and education the music community desperately needs. Together we can continue to chip away at the stigma, so that in the long term those working in the community never have to suffer in silence."
Researchers Gross and Musgrave added: "This research is a crucial step forward in our understanding of the complex relationship between the working conditions of musicians and mental health conditions.
"The honesty and poignancy of our interviewees has made possible this important work, and informed the service provision being implemented by Help Musicians UK, and for that we are truly thankful. We welcome the new service Music Minds Matter and hope that this research can spark a wider debate both in the music industry about the welfare of those at its heart, and more generally about the challenging nature of precarious work."
To help musicians in the UK, you can make a donation to Help Musicians UK, who support professional musicians at times of crisis.