A pianist is composing classical music from irregular heartbeats, to help diagnose patients
20 September 2017, 16:16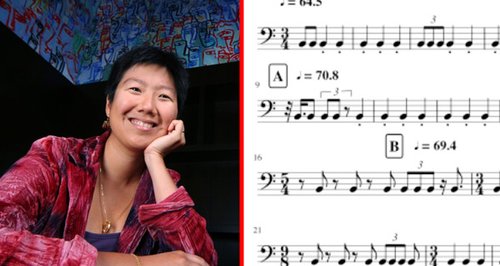 A musical scientist believes that composing music which accurately reproduces irregular heartbeats could help doctors develop a more advanced understanding of arrhythmia.
Elaine Chew, a Professor of Digital Media at Queen Mary University of London and an accomplished pianist, is analysing the heartbeat patterns of people with arrhythmia (a condition meaning the heartbeat is irregular, too fast or too slow) and turning them into classical music.
Elaine is leading an international team on the project, which will investigate whether musically representing heartbeat patterns could be used to help doctors understand irregular heartbeat conditions, and identify different subtypes of arrhythmia.
The project will take electrocardiogram data, and translate the information using musical notation software, which accurately reproduces the rhythms of individual arrhythmic heartbeats. This translation will then become the basis for new compositions.
"Once the heartbeat is represented in a musical score, it can be used to find patterns," Elaine told the Daily Mail. "Right now, they don't relate them to musical patterns. It's not part of doctors' training. But it is part of every musician's training. We notice timing."
The scientist and musician believes that once doctors and medical professionals hear these compositions (having never experienced arrhythmia themselves), they will gain a wider understanding of the condition.
But what will these compositions sound like? Relatively familiar, it turns out. Upon listening to one case of arrhythmia, the team were reminded of 'Mars' from Holst's The Planets – a far cry from a heart's stereotypical 'ba-doom' beat.
When asked which piece you wouldn't want to hear from an irregular heartbeat, composition, Elaine told the Daily Mail that "if it was Beethoven's Fifth, it would be very bad."
Have a look at the compositions here:
Read more about the project here.