Marin Alsop honoured with major orchestral award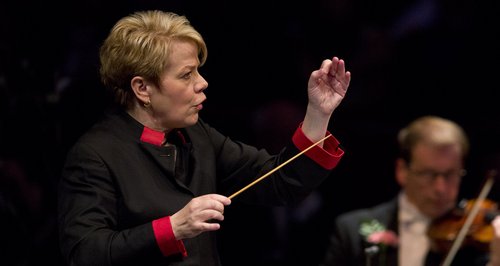 Conductor Marin Alsop has been given the 2018 Association of British Orchestras (ABO) Award in recognition of her work with British orchestras and her championing of female conductors.
In a video acceptance speech shown at the ABO conference (held this year in Cardiff), Alsop paid tribute to British ensembles:

"It's an incredible honour to receive this award. I fell in love with British orchestras when I first conducted here in the 1990s; not only are they incredible musicians with an admirable and intense work ethic, they are always a lot of fun."

"This recognition means a great deal, not only to me, but to everyone I work with. Music has the power to change lives, to challenge, and to inspire and I dedicate this award to the future generation of conductors, musicians and audiences."

Though she was not there to collect the award in person, Alsop will be presented with the gong itself during a February concert at London's Royal Festival Hall.

Other awards on the night went to Bettina Mehne and Bernhard Kerres of Hello Stage, who won the Artist Manager of the Year, John Smith, former General Secretary of the Musicians' Union, who won the ABO Special Award.

Orchestra Manager of the Year went to Sue Mallet, Director of Planning at the London Symphony Orchestra and Concert Hall Manager of the Year went to Richard Heason, Director of St John's Smith Square.