'It's really important to create your support network very early on' – advice from a rising star
2 October 2017, 14:28 | Updated: 3 October 2017, 17:07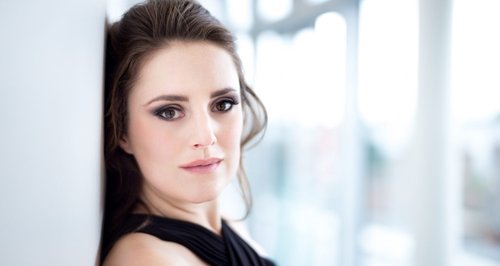 Louise Alder is one of the rising stars of classical music. This week she stars in a rare performance of Purcell's 'King Arthur' at the Barbican. She shared her best pieces of advice with us
What's your earliest memory?
My parents were both musicians so I grew up in a house of music – my mum is a violinist and my father is a singer so I guess my earliest musical memory, after basic nursery rhymes, is learning the violin with my mum.
How did you become a singer?
I was a violinist growing up and then I had some singing lessons at school – I really loved singing in musicals like Crazy For You and West Side Story and really fell in love with the stage through that. I went to Edinburgh University and found a fantastic singing teacher there and that's how I discovered that I could sing classically.
What piece of advice would you give to a young singer just starting out?
Take your time. The amazing thing about singing is you that don't have to decide to be a singer at a young age, you can work on your languages, play something else, or go away so something entirely different. The important thing is to have a very good singing teacher who you trust and who can build a technique with you. And it's most important to have a lot of life experience, I think, to be able to draw on when you're on stage. There's no rush and everyone has their own path. There's not one way to become a singer.
What's the best piece of advice you've ever been given?
There was one very important piece of advice that someone told me – create your support network very early on. Have people around you who you know will support you through anything, because you're always going to come up against people who make your life difficult – be it a critic or possibly a conductor – so it's very important to have a very supportive singing teacher and agent and family and friends. It's what keeps you grounded.
Who are your musical idols?
I was very lucky to grow up in two different opera houses in the UK. My mum played at Glyndebourne and my dad sang at the Royal Opera House in Covent Garden so I could look up to quite a number of singers. I absolutely idolise Swedish soprano Miah Persson, I think she's wonderful. Kate Royal was a big influence on me when I was studying and now she's a friend of mine, which is so so nice. It's great to start to work with the people I've looked up to! My mother was a founding member of the Orchestra of the Age of Enlightenment, so they were a big part of my childhood and were very much an inspiration for me.
What recording or project are you most proud of and why?
I've been very lucky to have many things happen in the last few years that I'm very proud of. My first solo CD just came out, Through Life and Love, it's a Strauss disc. Pianist Joseph Middleton and I recorded it last summer and we've put together a programme that tells a beautiful story of a woman from young love, then marriage and children and then loss of a partner. Every time I step on stage I feel very lucky to do what I do and be paid to do what I love. Long may it continue!
What one thing would you like to change in classical music?
I think it's an attitude thing. People tend to mistakenly think classical music is for a certain class of people, or people with wealth. And actually if you look at the disparity between tickets for a football match and tickets for a concert, the football is much more expensive, often. Or even tickets for a West End show.
And what are you excited about in the music world right now?
The talent that's coming out of the music colleges at the moment is extraordinary. As long as we keep the love and the wish to continue classical music's place in the UK, we will have funding and it will continue to mean things to the public. And hopefully we can reach out to a younger audience – I think that is happening more and more with reduced seats at opera companies and concerts. Wigmore Hall has a £5 scheme, Garsington has an under-35s scheme and Glyndebourne has an under-30s scheme, for example.
And the Royal Opera House is bringing back the Promming-style of taking the seats out of the middle [stall searing will be removed and audience members will be able to sit or stand. Tickets will start at £10 – read more here]. So I think everyone's trying to get the younger generation more involved in classical music and that will help re-ignite the nation's love for classical music.
Finally, if you could meet one composer who would it be and why?
I think I'd like to go for a pint with Mozart. I sing so many of his roles that he wrote for soprano. His naughtiness and sense of humour and total inability to be a grown-up appeals to me very much – he was a real live wire.
Purcell's King Arthur is on at London's Barbican on Tuesday 3 October, 7pm. Find out more at the Barbican's website