The best classical music and opera online streams available in 2021
17 June 2021, 09:52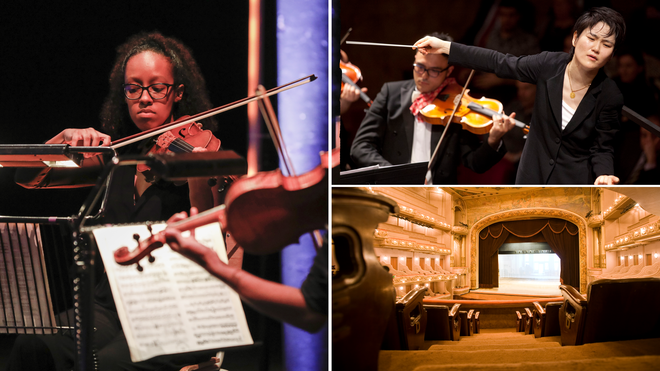 An updating list of the major classical concerts and events being streamed online as a result of the ongoing coronavirus measures around the world.
Measures taken worldwide to curb the spread of coronavirus have seen numerous classical concerts and events postponed and cancelled, and concert halls around the world closed for indefinite periods, since March 2020.
Countries banned gatherings, tightened their borders, and many have now seen various lockdowns for months. Some things are slowly starting to open up, but seeing live music still remains a rare treat.
As some of us are continuing to stay at home to work, self-isolate and look after the family, things may be slowly opening up and going live around the world, but we're lucky that many major classical concerts and events are being held without audiences and streamed online for us to see – for free in many cases. It's something that continues to bring comfort, solidarity and some beautiful relief in trying times...
Read more: Best live classical music concerts, festivals and venues returning this summer
Upcoming classical concerts and opera being live streamed
11 March – 21 August: Chamber orchestra, Academy of St Martin in the Fields, presents a new series of online concerts, filmed live in London, with music from Bach, Brahms, Errollyn Wallen and Sally Beamish.
Visit: www.asmf.org
23 May – 27 June: The American Pianists Association presents its 2021 classical awards, hosted online due to the ongoing coronavirus crisis. The five finalists for 2021, Dominic Cheli, Kenny Broberg, Mackenzie Melemed, Michael Davidman and Sahun Sam Hong, will stream their attention-grabbing recital performances. And the finals will feature chamber and concerto performances, with the winner announced on Sunday 27 June.
Visit: www.americanpianists.org
23 May – 12 September: Streaming platform On Air presents classical treats in the form of final symphonies from Brahms, Dvořák and Mozart, filmed at Vienna's Synchron Stage and featuring Synchron Stage Orchestra conducted by Johannes Vogel.
Visit: www.onair.events/en-int/page/classical-series
9 June – 25 June: St James's Church presents Piccadilly Piano Plus – a chamber music series celebrating the king of instruments. There'll be free lunchtime recitals, a live-streamed evening concert with soprano Nadine Benjamin, delightful Mozart, Ravel and Debussy from star pianist Melvyn Tan, and much more.
Visit: eventbrite.co.uk
10 June – 29 July: Following the success of the Hallé Orchestra's online Winter Season, three of the concerts in its live, socially-distanced Summer Season at the Bridgewater Hall will also be filmed and made available online, on demand, a week after each concert. The special digital version of the season will feature Elgar's Enigma Variations, Beethoven's Seventh Symphony and Stravinsky's Firebird Suite among other highlights, with Sir Mark Elder and Tabita Berglund conducting.
Visit: www.halle.co.uk/whats-on
11 – 20 June: Amidst ongoing pandemic uncertainty, Leipzig's Bachfest has stripped back and gone online for its 2021 instalment. Enjoy performances of Bach's sublime music through a series of twelve live streamed concerts. At the centre of the digital programme is the large-scale cycle 'Bach's Messiah', which tells the story of the life and works of Jesus through more than 30 cantatas, Bach's oratorios, and the St Matthew Passion.
Visit: www.bachfromhome.live
16 June – 31 August BST: The Bernardi Music Group, Stradivarius Piano Trio and the String Academy recently got together to prtesent a collection of pieces in aid of Dementia Action Week. The concert is now available to stream online, for free, and includes Elgar's Serenade for Strings, Vivaldi's Concerto for Four Violins in D major and Piazzolla's Otoño Porteño.
Visit: bernardimusicgroup.com/a-free-concert-to-celebrate-dementia-action-week
16 June – 31 August BST: The Bernardi Music Group and the String Academy join forces to present a beautiful concert from Shipley Parish Church, celebrating Shipley Arts Festival's 21st anniversary. Enjoy John Ireland's Toccata, Holst's St Paul's Suite and Vivaldi's Concerto for Four Violins.
Visit: bernardimusicgroup.com/event/musical-inspiration-lasting-21-years
16 June – 31 December, 19:00 BST: Cellist Claudio Bohórquez and Christoph Eschenbach in his pianist guise join forces to perform Schumann, Webern, Schubert and Messiaen online. Filmed at TELDEX Studios in Berlin, the concert is available to stream until Friday, 31 December 2021.
Visit: app.idagio.com
18 June, 19:00: The Lantivet Duo is coming back to our living rooms and screens with an eclectic extravaganza exploring classical music from Bali and Estonia, Yiddish Klezmer and a bright and summery Handel Sonata. The duo, which is violinist Anna Brigham and pianist Brendan Musk, will also premiere three new pieces for violin, piano and loop pedal. A nice one to stay home for, if the last couple of weeks or so of tentatively ramping up the socialisation has been a bit much...
Visit: youtube.com or facebook.com
27 June, 19:00: Watch The Kanneh-Mason Family Concert online live from Birmingham's Symphony Hall, featuring works by Eric Whitacre, Gershwin, Shostakovich and more – and starring Isata, Braimah, Sheku, Konya, Jeneba, Aminata and Mariatu Kanneh-Mason.
Visit: bmusic.co.uk/event/the-kanneh-mason-family-concert-live-stream
Until 30 June: Manchester Camerata presents 'Renew', a soothing, meditative programme of music by Tchaikovsky, Philip Glass and Roxanna Panufnix compiled to help us unwind and reflect on the challenging times we're in – with a sense of renewal and beauty at its heart. Watch on-demand, and on a pay-what-you-can basis. 'Renew' is presented in collaboration with the arts centre, HOME.
Visit: homemcr.org/production/renew-manchester-camerata
Until 1 July: National Children's Orchestra continues its engaging series of online events, including inspiring webinars hosted by NCO's own Catherine Arlidge (see above), virtual socials for members of the orchestra, creative and wellbeing sessions, and smaller 'sectionals' – both social and musical – to really enjoy getting to know each other.
Visit: www.nco.org.uk
11 – 12 August, 19:30 BST: Encompass Network presents a charity concert at Ely Cathedral in Cambridgeshire. A programme of music for strings and organ by Vivaldi, Max Reger, Rachmaninov and more will raise money for Encompass, which supports LGBTQ+ people by promoting inclusion, safety and freedom from discrimination through networking and capacity-building for the LGBTQ+ voluntary and community sector.
Visit: www.encompasscharityconcert.org
Until 31 August: Sing or play along to 'Leon and the Place Between' - London Symphony Orchestra's latest family and schools concert, available to watch for free on YouTube. Accompanying activity packs will help you and the whole family make the most of this magical musical tale.
Visit: youtube.com
Recent past classical concerts on demand
8 March – 8 June: Baroque choir and orchestra, Armonico Consort, presents an on-demand series of online concerts featuring sumptuous early music by the likes of Victoria, Byrd and Bach. Once you have your tickets, these beautiful performances are available to watch for 30 days.
Visit: www.armonico.org.uk/ondemand
26 May – 9 June: Bergen International Festival is going online and giving us the chance to watch 30 events virtually this year. Highlights include works for Dvořák and Grieg, and performances from the Bergen Philharmonic Orchestra and the violinist Johan Dalene.
Visit: fib.no/en/programme
6 May – 13 June, various times: London Symphony Orchestra, Classic FM's Orchestra in the City of London, continues its varied and endlessly engaging series of online concert offerings. There's something for every orchestral music lover – from a Symphonic Poem from Liszt, to masterful Verdi, Brahms and Dvořák excerpts in the Donatella Flick LSO Conducting Competition 2021 – and Beethoven's Fifth, among many other highlights.
Visit: lso.co.uk/whats-on
8 June, 19:00 BST: Music Masters presents 'Pathways: Empowering Potential', an online concert hosted by Randall Goosby and featuring the young musicians participating in the charity's educational programme. The musicians' performances have been filmed at Wigmore Hall.
Visit: www.musicmasters.org.uk
10 June, 19:00: The Sixteen, The Voices of Classic FM, presents a stunning, meditative concert of new choral music by Sir James MacMillan and Will Todd. Streamed on Classic FM's Facebook Page and available on demand for a month afterwards, the concert will be presented by our very own Alexander Armstrong, who will read the words of Cardinal Newman, and poet and churchman John Donne.
Visit: facebook.com/classicfm
10 – 11 June, 20:00 CET: For the third time since 2014, contemporary orchestral collective s t a r g a z e presents The Post-Beethoven-Fest 2021, one of its signature 'weekender' festivals of new collaborative works by classical, electronic and alternative music artists. The boundary-pushing festival will be streamed from Volksbühne Berlin. The 2021 instalment is all about Beethoven and his legacy in this day and age, and sees the participating artists take Beethoven's compositions as an inspirational focus point to explore and rediscover the composer for the 21st century.
Visit: zart.online-ticket.de/post-beethoven-fest-2021
Until 11 June: The Bath Festival Orchestra re-launched in lockdown, taking the first opportunity to perform with a sold-out concert at Bath Abbey on 17 May, the date live music returned to the UK. The concert is now available to stream online, for free, until 11 June. The concert features soprano Rowan Pierce and conductor Peter Manning, and includes Weber's Overture to Der Freischütz, five orchestral songs by Strauss, and Brahms' Serenade No 1 in D.
Visit: thebathfestivalathome.org.uk