Simon Rattle to open free school for young musicians in 2019
13 September 2018, 11:35 | Updated: 13 September 2018, 12:38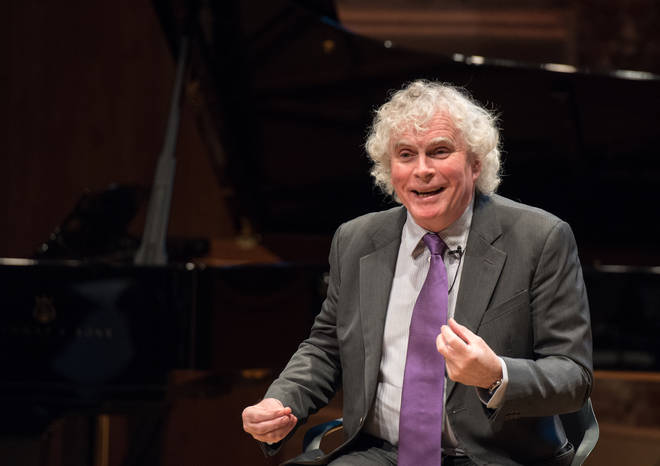 Sir Simon Rattle has announced plans to open a music academy for young musicians in East London in 2019, developed by the London Symphony Orchestra.
At a press conference marking the opening London Symphony Orchestra 2018/19 season, Sir Simon Rattle revealed his plans to create a new music school: the LSO East London Academy.
The Academy is being developed by the LSO, in partnership with the music education hubs in ten East London boroughs and will open in East London with the aim of identifying and nurturing young musical talent in the area.
In an effort to support music development evenly across London, Rattle will open the school to make the London Symphony Orchestra more representative of its London community.
The LSO East London Academy will open in Spring 2019 and offer free music training to promising musicians between 11 and 18 years of age, regardless of their financial circumstance.
Tuition offered at the Academy will act as a bridge between secondary school teaching and music conservatoires. This tuition can cost up to £3,000 a year in other establishments – a financial barrier that prevents many talented young musicians from fully developing their craft.
Sir Simon Rattle said:
"The LSO's education work is world-famous and rightly admired and copied. But we want to go much further. We know there is so much talent on our doorstep. We see these young people through our work every day in schools and the wider community.
"But they face some of the biggest social and financial barriers to realising their ambitions, and we want our programmes to constantly evolve to meet the challenge of being truly London's Symphony Orchestra."
The Academy's first-year programme will focus on working with 20 string players. The following year, 20 woodwind, brass and percussion players will be added to the programme with the aim of creating a chamber orchestra.
All the participants will benefit from the full education resources offered by the LSO, including masterclasses with the orchestra's musicians.
Each programme cycle will conclude with a public concert at LSO St Luke's, where industry professionals across the music and education sectors will be invited to watch.