RPO double bassist wins Salomon Prize
31 October 2012, 12:34 | Updated: 5 January 2017, 14:53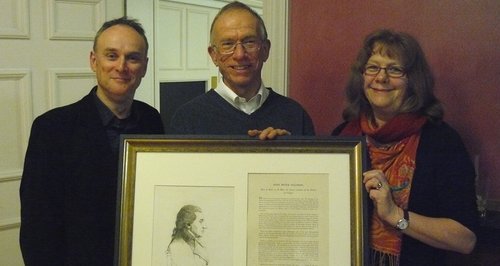 Retired co-principal of the Royal Philharmonic Orchestra double bass section, Roy Benson, was awarded a trophy and £1000 in recognition of his contribution to UK musical life.
Nominated by his fellow Royal Philarmonic Orchestra (RPO) musicians, Roy Benson was awarded the Salomon Prize at the Cadogan Hall last night. The prize, awarded by the Royal Philharmonic Society, recognises the individual 'unsung heroes' within an orchestra, and their contribution to the UK's musical life.
Benson has recently retired as co-principal of the double bass section, having been a member of the RPO since 1977. His support for the orchestra has included cycling from Land's End to John O'Groats in aid of the RPO's Sickness & Benevolent Fund.
The Salomon Prize was created by the Royal Philharmonic Society and Association of British Orchestras last year. On awarding the prize, they said: "As co-principal of the double bass section he has consistently provided leadership and support, always accompanied with a smile and a positive energy that has helped this section particularly through difficult times."
They added: "[His] generosity of heart and caring nature are precious assets for any orchestra and are often unseen by the public eye. These qualities lie at the heart of any true musician and are why Roy Benson is awarded the Salomon Prize 2012."
Benson received a cheque for £1000 and a trophy from conductor Paul Daniel at the RPO concert last night. He is the second double bassist in a row to pick up the award; Hallé double bass player Beatrice Schirmer won the first Salomon Prize in 2011.