This breathtaking orchestral epic captures why we'll miss Einojuhani Rautavaara
28 July 2016, 10:22 | Updated: 28 July 2016, 12:21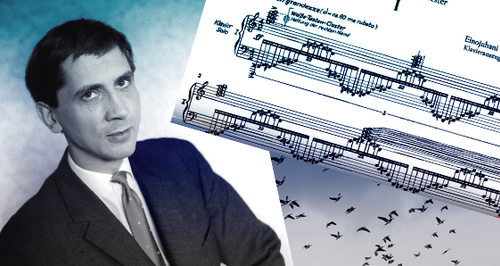 The great Finnish composer Einojuhani Rautavaara has died at the age of 87. Here's why his works will have an enduring place in music history.
Considered the finest Finnish composer since Sibelius, Rautavaara passed away yesterday at his home in Helsinki following complications from an operation.
Among his best known works were the innovative Cantus Arcticus (1972) which used real bird song recorded near the Arctic Circle and in Finnish bogs, and his deeply spiritual Symphony No.7, 'Angel of Light' (1994). The Symphony was part of Rautavaara's Angel Series – works inspired by his childhood visions.
Here's a taste, the sublime third movement, 'Come un sogno' (Like a dream):
A prolific life
Born in 1928, the son of an operatic bass, Rautavaara studied for four years at the Sibelius Academy in Helsinki before he won a scholarship to study at the prestigious Juilliard School in New York. He was also taught by Aaron Copland at Tanglewood before winning a major competition for his work, A Requiem in Our Time in 1954.
Rautavaara wrote music in many different forms and styles. He ranged across symphonies, concertos, choral works and even biographical operas of such historical figures as Van Gogh and Rasputin.
Even while experimenting with modernist approaches early in his career, Rautavaara's music always had more in common with great Romantic composers, such as Bruckner. He developed a lyrical, pastoral style, intensely Scandinavian in its blend of cool strings combined with gentle flutes, bells and horns.
The Symphony, 'Angel of Light', was nominated for several awards, including a Grammy. In 2010, his Christmas Carol was commissioned and performed by the Choir of King's College, Cambridge for their annual Festival of Nine Lessons and Carols.

Throughout his composing career, Rautavaara taught composition, including returning to the Sibelius Academy from 1976 to 1990.

Following a serious illness in 2004, he had to spend almost half a year in intensive care but recovered and managed to continue composing.