Legendary English organist and conductor John Scott dies suddenly, aged 59
13 August 2015, 11:00 | Updated: 5 January 2017, 17:26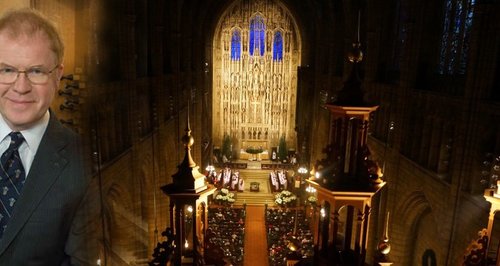 The former Director of Music at St Paul's Cathedral in London died of a heart attack on Wednesday.
Scott was born in Wakefield, Yorkshire, in 1956. As a boy he was a chorister at Wakefield Cathedral, and then in the mid-1970s held the position of Organ Scholar at St John's College Cambridge.
In the 1980s he held the post of Assistant Organist at both St Paul's Cathedral and Southwark Cathedral. He was appointed Organist and Director of Music of St Paul's in 1990, succeeding Christopher Dearnley.
Scott made many recordings with the cathedral's choir for Hyperion Records in the 1990s, many of which are now considered classic recordings of the English Church Music repertoire. He also directed services to mark the 100th birthday of Her Majesty The Queen Mother and the Queen's Golden Jubilee in 2002.
In 2004, following his departure from the London Cathedral, Scott was appointed Organist and Director of Music of Saint Thomas Church and Choir School in Manhattan. St Thomas' Church in New York said they are 'heartbroken' with the news.
A Requiem Mass will be performed for Scott at the Fifth Avenue church today at 5:30pm.
He is survived by two children, Emma and Alex, and his wife Lily, with whom he was expecting a baby.
Tributes to John Scott, from around the world are being shared on social media. On Facebook, St Paul's Cathedral have expressed their shock at his sudden passing, also sharing a 1997 video of Scott conducting a choir, orchestra and audience in 'Hark, the herald angels sing'.
As we mourn the sudden death of John Scott, here he is his element, conducting a full choir, orchestra and audience of 2,500 people at the 1997 Christmas concert.

Posted by St. Paul's Cathedral on Thursday, 13 August 2015