Opera North becomes Classic FM's Opera Company in the UK
24 August 2016, 16:14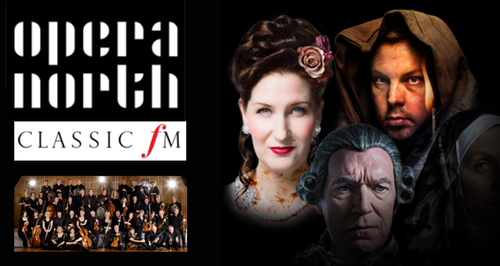 New partnership announced with the Leeds-based national opera company
Opera North has become Classic FM's Opera Company in the UK. The company is among the largest arts organisations outside of London, staging productions every year that range from the most popular works by such composers as Mozart and Puccini, to lesser known works and new commissions.
The partnership extends Classic FM's relationship with the company, which has previously focused on the Orchestra of Opera North as Classic FM's Orchestra in Yorkshire. Opera North is the only UK opera company that also has a full symphonic concert season, with the Orchestra of Opera North performing a dual role year-round in the opera house and on concert stages.
As part of the partnership, Classic FM listeners will enjoy a host of exclusive benefits, behind the scenes access on www.classicfm.com, unique events and ticket offers, starting with a special Classic FM night for Strauss's great comic opera Der Rosenkavalier next month.
"Classic FM does an incredible job in bringing classical music into millions of people's everyday lives," said Opera North's General Director, Richard Mantle, "and Opera North is very proud to become its Opera Company. Together, we will be celebrating the best of opera and classical music, sharing that music with as many people as we can, and uncovering some of the stories and secrets of staging full operatic productions in the theatre."
Sam Jackson, Managing Editor of Classic FM said, "So much of the greatest classical music comes from the opera house, and, with Opera North as Classic FM's Opera Company in the UK, we're looking forward to presenting this music in new and exciting ways to our 5.5 million listeners."
"We're also delighted to be sharing the Opera North story with millions more people worldwide – who, every week, engage with Classic FM online and via social media," said Jackson.
Opera North's new season for 2016/17 starts with Strauss's Der Rosenkavalier, conducted by new music director Aleksandar Markovic, a double-bill of vintage Puccini in Il tabarro and Suor Angelica, and a new production of Britten's haunting and compelling, Billy Budd. The new year brings a season of deliciously dark fairy tales: The Snow Maiden, Hansel and Gretel and Cinderella.