Joanna Lumley: "Beethoven lived within me"
1 May 2016, 12:00 | Updated: 1 May 2016, 21:38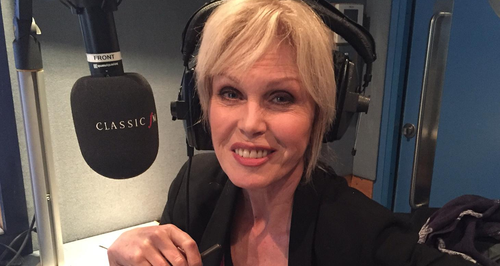 Actress says loving Beethoven's music so much as a girl made her feel like she was the composer.
Today she might describe herself as an actress, a campaigner and a documentary presenter. But when she was a girl Joanna Lumley was so in love with Beethoven's music that she began to think she was him.
"I got to know some of his music so well that I half believed I'd written it myself," Lumley told David Mellor on Classic FM, in a special show to celebrate her 70th birthday.
When she heard Beethoven's Eroica Symphony for the first time, she says, she almost couldn't move.
"It seemed to have come from my own heart and I thought that maybe Beethoven lived within me," she said, adding, "Not entirely sensible..."
LISTEN AGAIN to Joanna Lumley talking to David Mellor >
David Mellor devoted all two hours of his show on Sunday evening to a conversation with Lumley, marking her 70th birthday.
"I was a bit disappointed to find out that I was only 70 this year," she told him.
"I've always loved old people and I've always longed to be older. When I was 13, I wanted to be 20. 20, I wanted to be 50. 50, I wanted to be 80."
"I love old age. I love old people. It does bring you wisdom. You stop being frightened of things and you begin to savour the world in a quite different way."