Flautist threatened with arrest in airport security nightmare
5 October 2015, 10:50 | Updated: 7 October 2015, 10:42
A flautist has suffered a tough security ordeal at Chicago's O'Hare Airport, where airport security officials called the police to try and remove her.
***UPDATE***
Jessica has said via her Twitter feed that she's had a phone conversation with a representative from the TSA and Chicago O'Hare Airport. It seems to have gone well:
1/3 Today I had a long conversation w/ @fly2ohare @TSA manager. Was not expecting to be treated w/ anything resembling professionalism...

— Jessica Schmitz (@jsflutist) October 7, 2015
2/3 ... but the calm, respectful @TSA gentleman surprised me throughout our over 1 hour talk. Full account coming soon, but for now...

— Jessica Schmitz (@jsflutist) October 7, 2015
3/3 ... I hope we can find common ground where ridiculousness meets humor. "Curse the brilliant @TSA!" https://t.co/QSTdprmL4p @fly2ohare

— Jessica Schmitz (@jsflutist) October 7, 2015
Schmitz alleges that she was the victim of threats and harassment, stating on her website: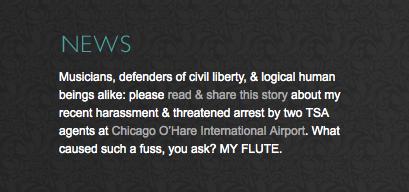 The incident, which took place over the weekend, saw Schmitz going through airport security at O'Hare Airport when TSA security staff asked to inspect her flute.

"I've flown with my flute at least a few thousand times, and it's frequent they ask to look at the case, even open it, to see what it is. But today a power-hungry agent decided to mess with me and said my flute headjoint needed to be removed from its case and run thru the X-ray LOOSE in a bin."
I tried to take my flute thru security @fly2ohare & @TSA called the @Chicago_Police & threatened to arrest me: http://t.co/bglpcj3Ove

— Jessica Schmitz (@jsflutist) October 4, 2015
"I said this was absolutely not an option, despite three supervisors assuring me my flute made of gold 'would be fine' rattling around in a bin. And when I insisted that this was not, in fact, 'standard procedure' and closed the case so they wouldn't damage it, they called the Chicago Police department to have me removed from the airport."

Schmitz was then fully searched by the police, while the flute itself was wrapped in nothing more than paper towels as it was scanned.

Schmitz also explained that one of the staff accused her of physical violence: "One agent told the police I tried to hit him, which I did not. He also detained me at the gate saying I was "not allowed to leave" until the police arrived."
The incident comes a week after violinist Rachel Barton Pine had a similarly miserable experience at an airport, when she was forced to sleep on the departure lounge floor with her family.


Trying to get on a 5:30am flight home since the 11:59pm @USAirways one wouldn't accommodate my 1742 Guarneri. Suitcases on original flight.

— Rachel Barton Pine (@RBPviolinist) September 28, 2015
Outrageous. Risk your 275-year-old instrument in the luggage hold, or sleep on the floor: http://t.co/cIbD7hauJj

— Classic FM (@ClassicFM) September 30, 2015
Schmitz gave a full report of the incident to Slippedisc.