Cello controls flamethrowers in new video game
16 July 2013, 10:49 | Updated: 5 January 2017, 10:37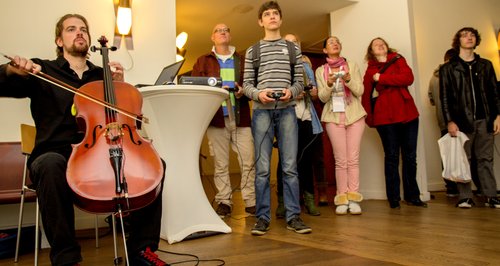 Activating missiles and cannons while improvising on the cello isn't encouraged in the concert hall, but a new video game is set to change all that.
Cello Fortress, by designer Joost van Dongen, uses music played by the performer to control tanks, cannons and missiles to protect their fortress from attack. As the cellist improvises, the length and style of notes dictates the ammunition used: slow high notes fire long range cannons, slow chords activate homing missiles, dissonant chords are flamethrowers, and fast high notes activate a machine gun.

"The most unique aspect of Cello Fortress is how a cellist does a live performance in front of an audience, while at the same time controlling a game," writes Dongen on his blog. "This is completely different from other music games, in which the musician usually plays on a fake plastic instrument, and even if he plays a real instrument, he does nothing but imitate an existing song."

While the cellist improvises, audience members use game controllers to play against the performer and attack the fortress. This creates an interactive concert, where the performer responds directly to the audience's commands.

The game is being showcased in Europe throughout the summer, with multiplayer picnics, open days, and cello festivals. The next opportunity to see Cello Fortress in action is Zomerparkfeest in Venlo, Netherlands, on 3 August.