Someone has taken David Cameron humming and turned it into a lush fantasy for cello and piano
12 July 2016, 10:10 | Updated: 9 January 2017, 17:48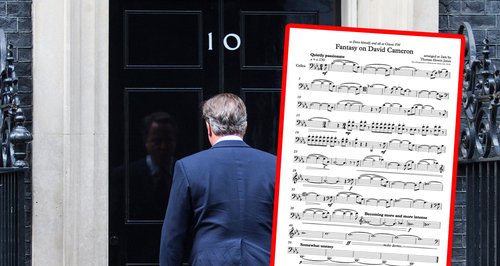 Composer Thomas Hewitt Jones knocked up this charming work in just a couple of hours in the middle of the night.
So earlier this week the nation was rapt as David Cameron hummed a strange little tune on his way back into 10 Downing Street. We analysed it for its musical content (YES, COMMENTERS, WE KNOW THE MUSICAL GRAMMAR WAS OFF. WE KNOW IT'S AN E FLAT. WE KNOW.) and the internet exploded.

Musicians and muso geeks responded in their droves – and we've put some of our favourites into 'greatest hits' video – and you can watch it above.
By far the most enjoyable responses were those that took the theme we'd established and turned it into something far more polished than we, or David Cameron, could've imagined.
What does Theresa May's taste in music say about her? >
Here's Thomas Hewitt Jones' 'Fantasy on David Cameron' for cello and piano, composed in a fervour at 2AM:
Check Thomas out on Facebook too. The guy's a legend.
Thomas's Fantasy has captured the imagination of the whole country. He told LBC's Shelagh Fogarty how he was instantly inspired by Mr. Cameron's hum:
Or what about this full orchestral version, which even has a tonality-skewing trombone gliss at the end?
And then, improvisation genius Gabriela Montero sent us this work of unparalleled cleverness:
There was also a fugue for organ, performed here wonderfully by Sam Bardsley
And an absolutely spot-on version for SATB choir. Here's a performance:
Also, a waltz: