This utterly inspirational pianist survived the Holocaust, and played Chopin beautifully
24 February 2014, 09:20 | Updated: 27 January 2017, 16:02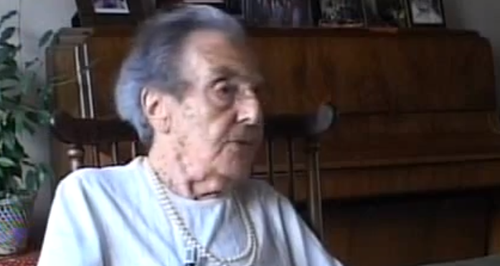 The oldest living holocaust survivor, pianist Alice Herz-Sommer had a unique outlook on life.
Born in Prague in 1903 to a German-Jewish family, Alice Herz-Sommer played the piano from an early age. She was interned at the Theresienstadt concentration camp from 1943 until the end of the war, playing more than 100 concerts during her time there.

After the war, she settled in Israel with her son, cellist Raphael Sommer, and taught at the Jerusalem Academy of Music.

Speaking in 2010, she said: "I believe men don't need to eat food. Maybe we don't need food when we have something spiritual. We were alive. And these concerts, the people are sitting there, old people, desolate and ill, and they came to the concerts and this music was was our food. Through the music we were kept alive."

She used to begin each day practising music. "I am alone but not lonely because my life is rich with music," she said. "Music saved my life."
Speaking yesterday, her grandson, Ariel Sommer, said: "Alice Sommer passed away peacefully this morning with her family by her bedside. Much has been written about her, but to those of us who knew her best, she was our dear 'Gigi'. She loved us, laughed with us, and cherished music with us. She was an inspiration and our world will be significantly."
Alice Herz-Sommer's life has inspired two books, A Garden of Eden in Hell (2006) by Melissa Mueller and Reinhard Piechocki, and A Century of Wisdom: Lessons from the Life of Alice Herz-Sommer, the World's Oldest Living Holocaust Survivor by Caroline Stoessinger. The Lady In Number 6: Music Saved My Life, a 38-minute documentary about her life, is up for best short documentary at next week's Academy Awards.