Dad with dementia's piano playing is a powerful reminder that music heals
27 June 2019, 09:12 | Updated: 27 June 2019, 09:16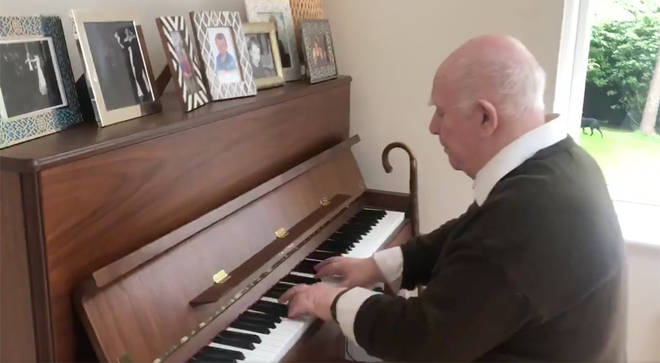 This video featuring a pensioner with dementia playing his own compositions at the piano is a powerful reminder that music heals – and it's giving us all the hope we need.
Earlier this week, Nick Harvey, a TV composer from East Sussex, shared a video on Twitter featuring his father with dementia playing a piano piece he had written over 30 years ago.
The sweet-sounding melody, 'Where's The Sunshine', was penned by 79-year-old pensioner Paul Harvey in the 1980s while he was working as head of music and drama at Imberhorne School.
And although Paul now lives with dementia, the video shows him recalling the music and performing his piece perfectly.
When posting the heart-warming video, Nick included an incredibly moving caption: "Dad has dementia. Sometimes he drifts into another world and I feel like I'm losing him. He is never more present, however, than when he plays the piano.
"He came to mine today and I asked him to play one of his compositions. He thought he wouldn't be able to remember it."
That certainly wasn't the case: Paul remembered the piece note-for-note and gave his son a moving two-minute recital (see video above).
Ever since Nick shared the video, he has seen an overwhelming response as Twitter followers have been equally touched by his father's performance.
Among the thousands of people to leave their comments were pianist James Rhodes and chart-topping artist Emeli Sandé.
The 'Read All About It' singer wrote: 'Thank you @mrnickharvey for sharing this personal moment. Your dad's composition is beautiful.
'Listening to him play, I am reminded of the healing power of music and the refuge it provides for us. Love to your dad and family and all others suffering with dementia.'
And while some Twitter users chose to share their personal experiences, others highlighted the need for music education.
This is especially significant at a time when many schools across the country are experiencing cuts and major changes to the curriculum, despite the proven benefits of music on people living with dementia.
As well as reducing symptoms such as anxiety and depression in those with the condition, listening to music or playing an instrument can also help them to maintain their speech and language skills.
Nick later shared a photograph of the original manuscript his father had used to write the song, which is written in the key of G major:
Thanks for sharing your father's composition with us, Nick – we hope he continues to find joy through beautiful music!