This is the inspirational story of how technology gave a disabled violinist the chance to make music again
24 August 2017, 17:24
Rosemary Johnson was a brilliant young violinist, but then a car accident ended her career. Thanks to some amazing neuroscience, she's finally been able to make music again.
Rosemary Johnson was a young violinist who at the age of 22 had won a prestigious place in the orchestra of Welsh National Opera, alongside her friend Alison Balfour.
But in 1988 Rosemary was in a car accident. She suffered severe brain damage and lost the ability to speak or move.
But she didn't lose her love of music and through a pioneering project run by Plymouth University and the Royal Hospital for Neurodisability in London, Rosemary is once again able to make music.
Using an EEG cap (that reads electrical impulses from the brain) and a computer that uses Brain Computer Interfacing software, Rosemary is able to compose music using just her thoughts and retina control.
Rosemary can also control the music's timbre and tempo using her thoughts.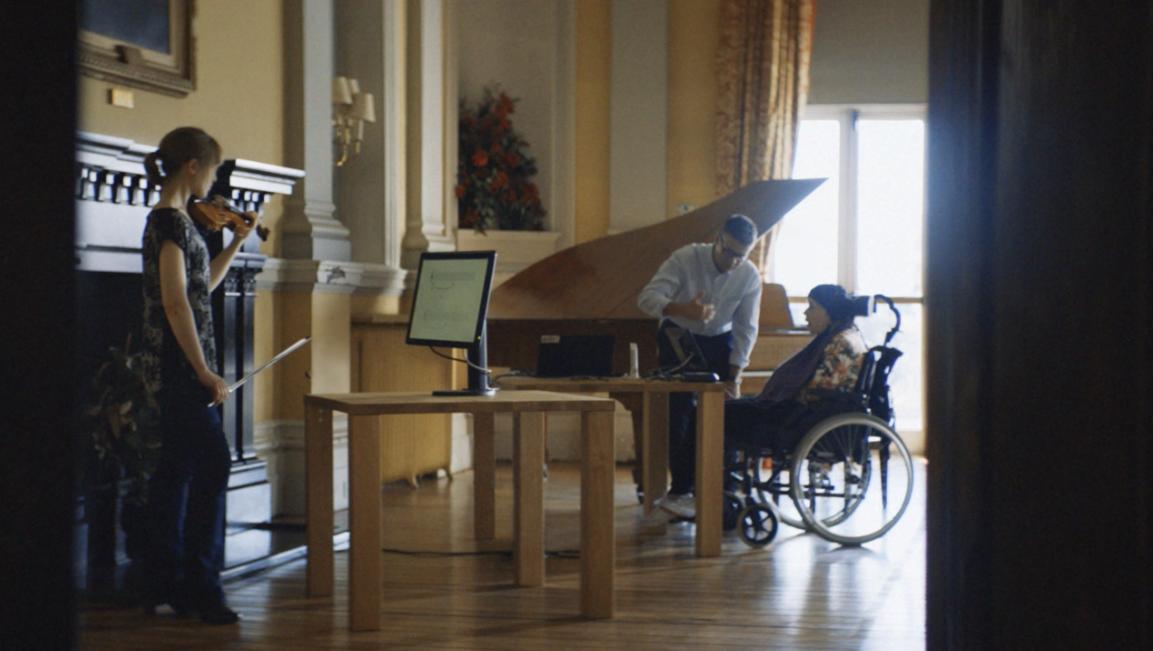 Image: Volvo/Sky Atlantic
The project is run by Professor Eduardo Miranda who said: "I had this thought – imagine, just imagine if it would be possible to read information from your brain to compose music. That somebody can no longer move their body, can no longer play a musical instrument. Imagine if you could design something reconnect this person with music.
When I met Rosie, there was something that clicked. I knew that she was a musician, I knew that she would understand."
He said the first time he realised the ground-breaking technology would work, "we were all in tears. We could feel the joy coming from her at being able to make music."
The story was filmed as part of Volvo's Human Made Stories series (you can watch the whole video here) and for the film, the team reunited Rosemary with her friend Alison to perform together for the first time since Rosemary's accident.
Alison said: "I felt honoured to be doing this with her, to be her sound, her music, her violin and to have her next to me again was wonderful, really wonderful."
'Music of the Mind' will be broadcast on 29 August on Sky Atlantic and available on Sky On Demand for 12 months. Watch the whole video here.