New releases: Grieg, Rossini and Hoffmeister
2 January 2018, 10:00 | Updated: 2 January 2018, 15:24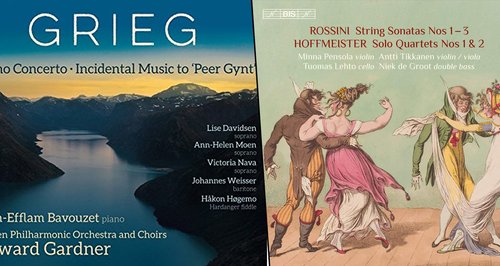 Throughout the week Classic FM's presenters bring you the best new recordings, including world exclusives and premiere broadcasts of latest releases.


John Suchet plays a track from his featured Album of the Week at 10.15am every weekday.
Grieg: Piano Concerto - Jean-Efflam Bavouzet, Bergen Philarmonic Orchestra and Choirs, Edward Gardner
Chandos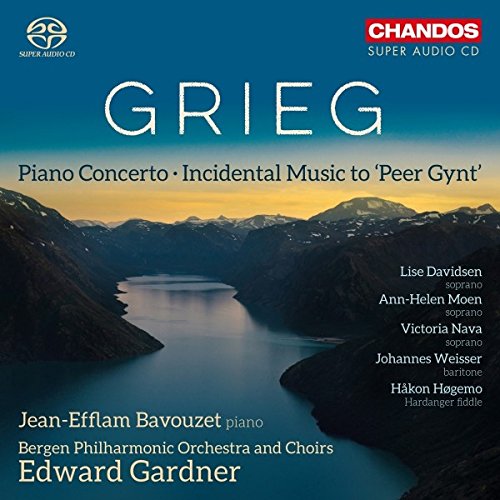 This much-awaited recording offers keenly idiomatic performances of the most famous works by Grieg, played by the composers own orchestra, the Bergen Philharmonic, and its Chief Conductor, Edward Gardner.
The drama and passion of such favourite pieces as the incidental music to Peer Gynt and the Piano Concerto are superbly captured in surround-sound with exemplary Chandos sound quality. Unlike most existing recordings, offering only the orchestral suites, this disc presents numerous extra excerpts from Peer Gynt, which follow the sequence of Henrik Ibsens dramatic poem, including sections for the unique Norwegian 'Hardanger Fiddle.
Having collaborated with the orchestra on several occasions, Jean-Efflam Bavouzet is the soloist in the Piano Concerto, a piece that stands out as a shining example of a single great thought captured and expressed in music. The power of this conception is evident throughout the concerto in the pianists faithful, yet highly romantic interpretation.
> Purchase from the Classic FM Store


John Brunning plays a track from his featured Drive Discovery at 6.15pm every weekday.
Rossini & Hoffmeister – Sonatas, Vol. 1 - Minna Pensola (violin), Antti Tikkanen (violin/viola), Tuomas Lehto (cello), Niek de Groot (double bass)
BIS
The works gathered here hail from two different sets of string quartets: the four so-called Solo Quartets by Franz Anton Hoffmeister and Gioachino Rossini's six String Sonatas (or Sonate a quattro). Both sets differ from the 'normal' configuration in that they allow a double bass to take part, albeit in different ways. Rossini, who composed his sonatas at the age of 12 (!), left out the viola and gave the double bass a more or less conventional bass role – albeit with occasional virtuosic outbursts. The sonatas were first published in an arrangement for traditional string quartet and are often heard performed by string orchestras.
In Vienna, where he was active as a composer and music publisher, Hoffmeister (1754-1812) chose a different solution than Rossini and gave his double bass player a leading role in the ensemble, letting it replace the first violin. It was no coincidence that this happened in Vienna – considering the amount of solo works for the double bass composed there, the standard of playing must have been exceptional. On the present recording, it is the Dutch player Niek de Groot who takes up Hoffmeister's challenge in the company of a Finnish trio consisting of Minna Pensola, Antti Tikkanen and Tuomas Lehto. Niek de Groot has also edited the score of the first of the Hoffmeister quartets, which is here recorded for the first time.