Duke and Duchess of Sussex receive standing ovation from musicians at Royal Albert Hall concert
9 March 2020, 13:59 | Updated: 9 March 2020, 15:15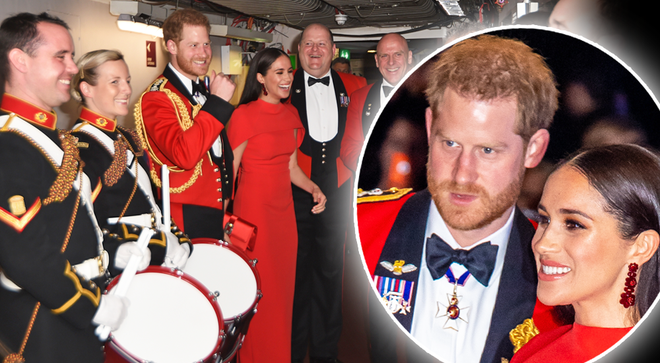 World-class musicians, composers and conductors gave the Duke and Duchess a hearty applause, at one of their final engagements as senior royals.
The Duke of Duchess of Sussex, Prince Harry and Meghan Markle, received a standing ovation at the Royal Albert Hall as they attended the annual Mountbatten Festival of Music.
The festival brings together influential musicians, composers and conductors of the Massed Bands of Her Majesty's Royal Marines.
Harry and Meghan were greeted with the warm welcome on Saturday night (7 March), during one of their final outings as senior royals before they officially step back at the end of the month.
The audience in the prestigious venue gave an enthusiastic round of applause as the couple made their way to their seats, and continued to clap as they looked on from the royal box.
Together they looked almost overwhelmed by the hearty response, with Harry smiling and waving at audience members as Meghan beamed beside him.
Read more: Prince Harry and Jon Bon Jovi record Invictus Games charity single at Abbey Road >
The concert, which takes place every year, is a showcase of the musical talents within the Royal Marines.
It takes place over two evenings, and displays the versatility and skill of the military musicians through a range of musical styles, including traditional marches and overtures.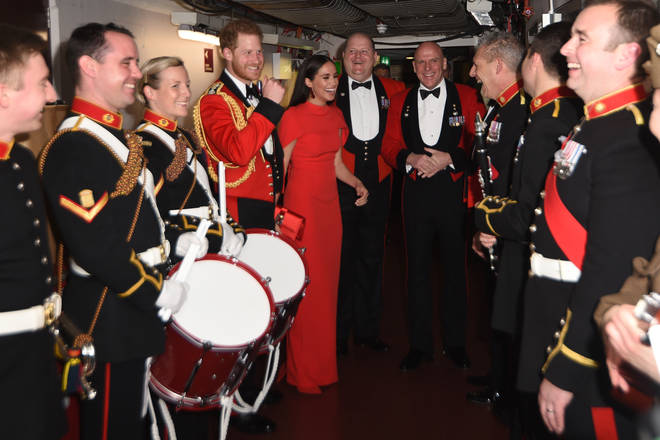 Read more: Courteney Cox casually melts Instagram playing piano at the Royal Albert Hall >
Harry and Meghan met some of the band members after the concert, laughing and joking with the musicians backstage before heading to the auditorium to meet more performers and attendees.
The Albert Hall performance, which Harry attended in his role as Captain General of the corps, marks the 75th anniversary of the end of the Second World War and the 80th anniversary of the formation of Britain's Commandos.
Proceeds from the festival will be donated to the Royal Marines Association and the CLIC Sargent, which is a UK-based cancer charity for children and their families.
Voting is currently open for the Classic FM Hall of Fame 2020 – click here to tell us what your three all-time favourite classical pieces are, and you could win £1,000!