Danish orchestra sets up panel to audition dogs for rare Mozart symphony
19 April 2023, 17:52 | Updated: 20 April 2023, 17:59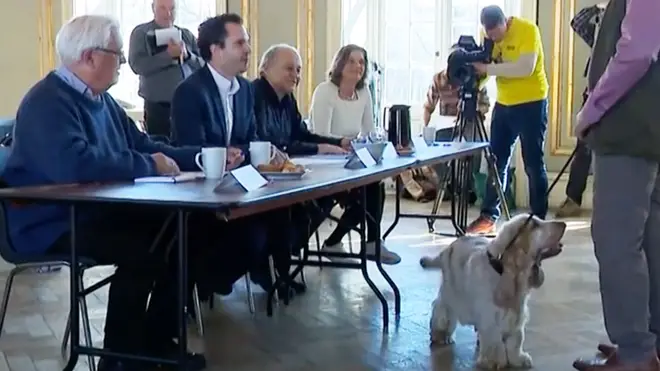 Canine competitors lined up for their chance to star alongside the Danish Chamber Orchestra in an upcoming festival performance.
It's not often an animal gets the opportunity to perform in a classical music concert. And yet, this year an orchestra in Denmark are giving two lucky pups the chance to play a starring role in an upcoming performance of a rare Mozart symphony.
The Danish Chamber Orchestra, also known as the Danish Entertainment Orchestra, has assembled a crack panel of judges to audition dogs for a concert in September. Pup Idol, if you will.
Read more: This dog can sing along to Bach's 'Air on the G String' – and we're genuinely impressed
The orchestra appealed to pet owners, those who might ordinarily have been driven barking mad by their dog's vocalisations, inviting them to test out their talents in front of a live orchestra.
The winning pair will join the orchestra for a performance of Leopold Mozart's Jagdsinfonie, or Hunting Symphony, at the Haydn Festival in September.
Some recordings of the symphony, which is written for horns and strings, go all-out by including shouts, barking dogs, and even gunshots.
Read more: Surprisingly graceful chihuahua performs 'Swan Lake' ballet routine at Crufts dog show
Who's going to be the next soloist dog in Mozart's Hunting Symphony? At this year's Haydn Festival in September, the Danish Entertainment Orchestra will perform Mozart's piece, which needs a canine character as one of the key roles. This is what a dog audition looks like.

Posted by NoComment on Friday, April 14, 2023
In a behind-the-scenes video of the audition process, a spaniel shows off its obedience and agility by weaving its way through its owner's legs.
Urged on enthusiastically by chief conductor Adam Fischer, it then dutifully barks on command, as a small-scale string orchestra accompanies. A pawfect performance from a future star.
It turns out you can teach an old dog new tricks after all.