Van Gogh painting stolen from museum locked-down by coronavirus outbreak
31 March 2020, 12:27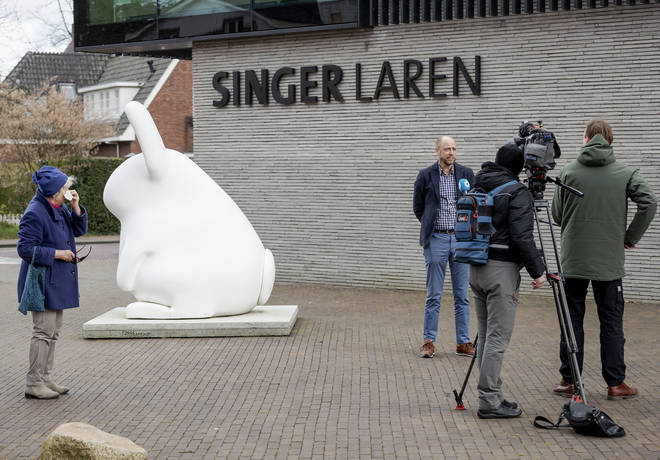 The valuable artwork was taken from the Singer Laren museum, which had been locked down in compliance with coronavirus measures.
A painting by famed Dutch artist Vincent Van Gogh has been stolen from Singer Laren museum in the Netherlands.
Thieves smashed through the museum's glass front door at around 3.15am on Monday morning and stole Van Gogh's Parsonage Garden at Neunen in Spring.
The painting, worth up to £5m, was on loan to Singer Laren from the Groninger Museum. No other pieces have been reported as stolen.
Singer Laren museum director, Jan Rudolph de Lorm, said in a press conference broadcast that he was "shocked and incredibly p***ed off" by the theft.
Read more: People are recreating famous paintings at home during quarantine >
Wij zijn diep geschokt, boos en verdrietig. Er is een schilderij van Van Gogh gestolen. Het is vreselijk voor het @groningermuseum, voor Singer, maar vooral voor ons allemaal. Want kunst is om van te genieten, geïnspireerd te raken en getroost te worden, zeker in deze tijden. pic.twitter.com/eJezSTKSQl

— Singer Laren (@SingerLaren) March 30, 2020
De Lorm said: "This is exactly what you don't want as a museum that has a painting on loan.
"A beautiful and moving painting by one of our greatest painters, stolen from the community [...] This must come back as soon as possible, so that we can enjoy and be comforted by this beautiful art again.
"Art deserves to be seen and shared by us, the community."
Read more: Venice canals run clear, dolphins appear in Italy's waterways amid lockdown >
The Groninger Museum said in a statement: "The work from 1884, oil on paper on panel (marouflé), is the only painting by Van Gogh in the collection of the Groninger Museum.
"We are very shocked by this news. The investigation is currently in full swing and no more can be said about it due to the police investigation."
Click here for the latest coronavirus advice from the NHS >
General director Evert van Os said the museum is "angry, shocked, sad" at the theft, which happened on 30 March – the day the artist was born 167 years ago.
The museum is currently closed due to government measures to slow the spread of coronavirus.