Police intervene as string quartet performs to neighbours during lockdown
28 April 2020, 17:48 | Updated: 30 April 2020, 10:12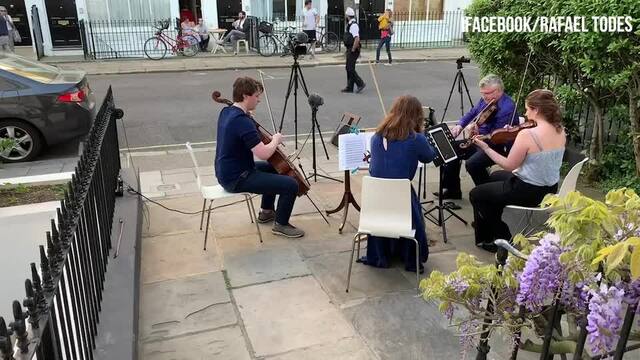 Police break up orchestra performing on their drive
When this group of musicians decided to perform for their quarantined neighbours, little did they know they'd get some rather unexpected visitors...
As the coronavirus pandemic has unfolded, we've seen musicians far and wide use their wonderful skills to lift people's spirits – but for one London street ensemble, their performance may have proved a little too popular.
Violinist Rafael Todes – a member of Allegri string quartet – and his family had been treating their neighbours (and pets) on Alexander Street in Bayswater to a rousing rendition of Shostakovich's String Quartet No. 4 (see above) when police arrived at the scene of the musical crime to break up the informal concert.
In Todes' video (watch below), we see a police officer approach the apparently naughty culprits and say, with clear regret: "Look, I see what you're doing and I'm fine with it, but with so many gathering outside it's just...
"I don't enjoy this part of the job, but obviously it's going to keep causing the street to keep gathering."
Click here to view the NHS's latest coronavirus advice >
Despite the lockdown performance being shut down, the officer was keen to add: "I'm not here to fine you, don't worry! But the whole street can't be doing this."
He didn't give them the right to remain silent, but he did go on to drop hints that he might just be a classical fan himself: "I get what you're doing, it's lovely. It's good music! I am sorry."
Speaking to Classic FM, Todes explains that the family originally got together to attempt the Beethoven string quartets, and returned to their front garden by popular demand. On this occasion it was all too well-received. "The irony is, Shostakovich wrote this piece and had his suitcase packed at the time, terrified of being arrested by Stalin," Todes laughs. "We were playing this and the history of the piece came rather to life when the police arrived!"
He adds: "It's a very friendly street and people have warmed to having music during desperate times."
They might have been caught out in the act but with such a display of politeness and fairness from the police, the string quartet agreed to suspend their concert right away.
With law enforcement and local musicians both showing a stellar example of co-operation, the other residents proceed to give both sides a huge round of applause. Nice to see everyone doing their bit in tough times.
Their performance may have been cut short, but we still think these talented instrumentalists still stole the show. Bravo!