Operatic baritone perfectly parodies the 'Figaro' aria with coronavirus lyrics
17 April 2020, 14:38 | Updated: 17 April 2020, 15:18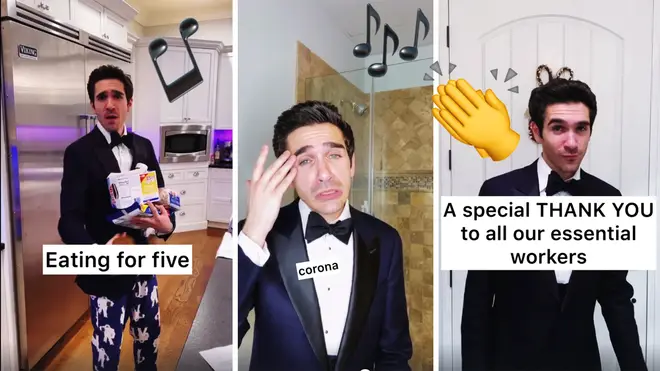 'Eating for five by myself, I'm disgraced, dad bod!'
An operatic baritone has ingeniously parodied Rossini's 'Figaro' aria – and it's truly an anthem for our times.
Replacing the "Figaro, figaro, figaro, figaro!" (etc) lyrics, this baritone bombards us with repetitions of "COVID-19" and "corona". And it really is an escapist laugh (we promise).
In 'Opera Singer In Quarantine', Matthew Ciuffitelli AKA the Opera Guy, stirs from his bed – dishevelled, but by happy coincidence dressed in the black tie of any respectable baritone – and sings, "I'm going crazy in quarantine… Feeling so lazy in quarantine!" (watch below).
Click here for the latest coronavirus advice from the NHS >
Ah – the black tie isn't so much black tie as back tie-top-pyjamas-bottom. He swings his legs out of bed and, grabbing what appear to be sandwich makings from the fridge, continues to the melody of 'Largo Al Factotum' from Rossini's The Barber of Seville: "Losing my mind in this house, what a waste oh God!"
He laments about the disgrace (and resultant "dad bod") of "eating for five" by himself, and other disheartening aspects of self-isolating due to the coronavirus pandemic, including missing family and out-of-stock hand sanitizer ("coronavirus you really suck!"). We like the special "thank you to all our essential workers" message at the end.
And the other most important message for us? "Everyone stay calm; this isn't forever." Amen to that.
Thanks for the light relief, Mr Ciuffitelli. Bravissimo!