Museum challenges self-isolating people to recreate famous artworks with household objects
30 March 2020, 14:35 | Updated: 30 March 2020, 14:43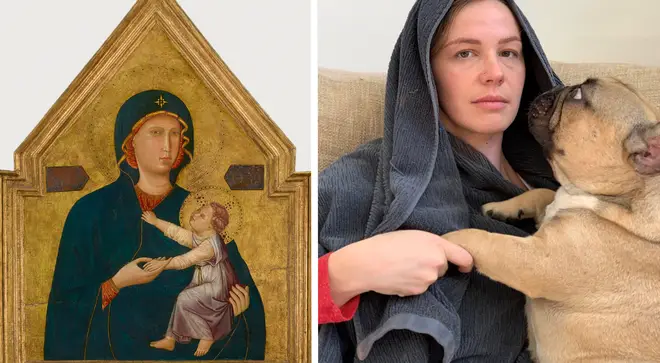 Feeling bored in lockdown? One of the world's best-loved museums has found a humorous (and creative) way of keeping you entertained...
The Getty Museum in LA is currently closed to the public following the COVID-19 outbreak – but that hasn't stopped it from engaging with art lovers.
Last month, the iconic museum shared a post on Twitter with the caption: 'We challenge you to recreate a work of art with objects (and people) in your home.'
It then added three simple instructions: choose your favourite artwork, find three things lying around the house, and recreate the artwork with those items, before sharing your entry online.
Toilet roll? Cups of tea? Reluctant doggo? Literally anything goes.
Click here to view the NHS's latest coronavirus advice >
We challenge you to recreate a work of art with objects (and people) in your home.

🥇 Choose your favorite artwork
🥈 Find three things lying around your house⠀
🥉 Recreate the artwork with those items

And share with us. pic.twitter.com/9BNq35HY2V

— Getty (@GettyMuseum) March 25, 2020
Sarah Waldorf, social media lead at Getty, told Yahoo Lifetstyle: "Our audience told us loud and clear that they wanted to see beautiful artworks, learn more about art from home, and find delight on social media.
"We wanted to offer up a creative challenge to find refuge from the uncertain state of the world and to spark excitement to get creative — no extra materials required."
The ingenious challenge was inspired by an Instagram account from Amsterdam, @tussenkunstenquarantaine, (meaning "between art and quarantine" in Dutch), which features an impressive selection of recreated artworks – from Magritte's surrealist paintings to Frida Kahlo portraits.
Now, Getty's fans are getting all Picasso by sharing their own, household-inspired masterpieces.
Read more: People are recreating famous paintings at home during coronavirus quarantine >
Hockey sticks, cute pets, big blocks of cheese – you name it, people are going all out:
Speaking about Getty's hope for the challenge, Annelisa Stephan, assistant director of digital content strategy and user experience design at Getty, explained: "Our vision is to use digital to uplift, to inspire, and to create community through art."