Germans sing 'Bella ciao' from rooftops in solidarity with Italians under coronavirus lockdown
20 March 2020, 17:14 | Updated: 20 March 2020, 17:35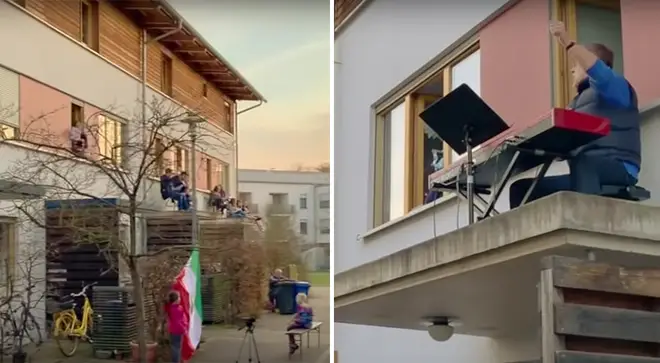 A heart-warming moment from a group of music-lovers in Bamberg, who sang the Italian Resistance anthem in solidarity with their quarantined European neighbours…
We're living in uncertain times – but here's a rather touching moment of music, from a gathering of neighbours in Bamberg, Germany.
In solidarity with their "dear Italian friends" who continue to be under coronavirus lockdown, the neighbours sing the Italian resistance song 'Bella ciao' from their rooftops.
"To all our dear Italian friends, in this difficult time for all of us, but mostly for you, we want you to know we are very close," the pianist announces in the video below.
"We were really overwhelmed to see your beautiful balcony videos. So, we have decided in Bamberg to get together and sing for you 'Bella Ciao'.
"Hugs, from your German friends."
"Bella ciao" - Bamberg singt für Italien
'Bella Ciao' is an Italian Resistance song which became the anthem of the anti-fascist regime and was adopted by Italian partisans during the Second World War as a hymn of freedom.
It literally means 'Goodbye Beautiful'.
Read more: Pianist plays 'Titanic' theme from balcony, saxophonist neighbour joins >
As the world rallies together to protect our most vulnerable through self-isolation and government-imposed quarantines, it's been very moving to see these beautiful moments of solidarity and support through music.