Doctor picks up violin to give emotional serenade after patient's COVID-19 recovery
21 April 2020, 16:57 | Updated: 21 April 2020, 19:07
Musical and medical worlds worked together in this London hospital, in a moment of hope and healing.
Gastroenterologist Dr Maxton Pitcher is one of the many healthcare professionals working incredibly hard on the frontline in the coronavirus pandemic. But in addition to his skills in the medical field, he also knows of the healing and uplifting capacity of music. Everything was on display on Friday at Northwick Park Hospital in London.
With their protective gowns and masks on, doctor and pianist performed an arrangement of the Bach/Gounod Ave Maria as their patient left the ward. Music, clapping and cheers all came together in an ovation full of celebration, relief and all-round gratitude.
What a beautiful scene.
To accompany the video, Pitcher wrote: "Emotional scenes at Northwick Park Hospital yesterday as our brave A&E sister is discharged from Elgar Ward after a touch and go four-week battle with COVID-19."
Click here to read the latest advice from the NHS on coronavirus >
Dr Maxton Pitcher is a Consultant Gastroenterologist at St Mark's and Northwick Park in North West London. He also plays violin in chamber ensembles and orchestras, including the European Doctors Orchestra.
In his post, Pitcher also saluted his colleagues. "Amazing staff, camaraderie and commitment to caring for our patients in the face of adversity," he said. We feel those words too, with thanks from all of us at Classic FM.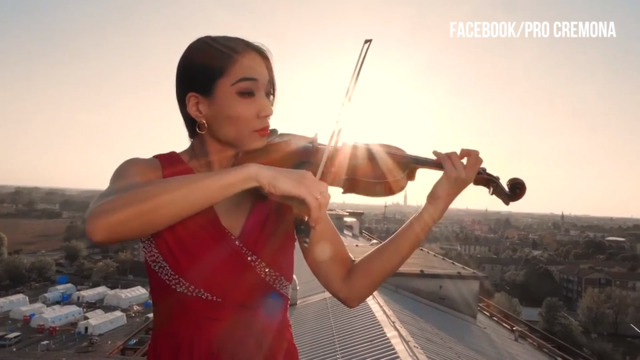 Lena Yokoyama plays Morricone above Cremona hospital's rooftop