Classic FM fan proposes on-air on Christmas Day
3 January 2019, 10:19 | Updated: 3 January 2019, 16:47
Ever wondered how you might propose to the apple of your eye? Here's what happened when one of our loved-up listeners did just that during a festive Requests show
Anyone who has been brave enough to set up a marriage proposal will understand just how nerve-wracking it can be to come up with that extra special idea.
So naturally, when one of our love-struck listeners asked us to be part of his big moment, we were delighted to lend him a helping hand.
To kick off our Christmas Day Requests show, Anne-Marie received a call from Chris from Colne in Lancashire.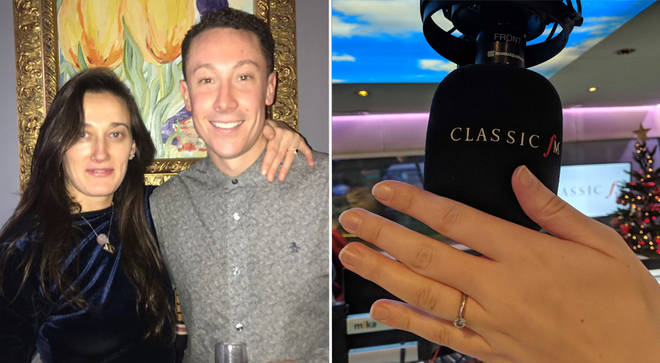 After chatting to Chris about what his family would be eating for Christmas dinner (nine partridges), Anne-Marie set things up, by asking: "It's going to be quite a special Christmas because you're with your other half. Tell us more about the love of your life."
Chris said: "Yes, Hannah Jessica Cecilia Small. We met six months ago and fell in love instantly. When you know, you know. We moved in together a few months ago, so it's our first Christmas together."
Did you get engaged this Christmas? Find out which music you should play at your wedding >
After discussing Christmas gifts for Hannah, Anne-Marie eventually said: "Are there any questions you'd like to, perhaps, ask Hannah this year?"
A little nervously, Chris replied: "Yeah, I think there is one special question. So, I'd just like to wish Hannah a wonderful Christmas… to let her know that every day I spend with her my love grows even stronger for her… and I would like to ask Hannah, would you be my wife?"
Anne-Marie wished Chris luck, while fighting back tears.
At the end of the Requests show we heard from Chris again – this time with his fiancé on the line as well!
He told the Classic FM audience: "I was very nervous with what was happening. I asked my darling wife-to-be, my fiancée, to marry me…" to which Hannah interrupted: "And I said yes!"
Hannah told Classic FM: "I was sort of standing there a bit flabbergasted and it became very apparent that it was Chris! He got down on one knee and opened the box; he was about to put [the ring] on my finger, but I just snatched it and said, 'YES, DEFINITELY!'"
Discover the perfect music for your wedding >
Laughing, Anne-Marie said: "You go girl! I think it's probably been our best request for a Classic FM Christmas Day Requests programme because we've never had a marriage proposal before."
Since Chris's proposal, he tells us Hannah has become increasingly left-handed and they plan to drive a 1970s Corvette Stingray up to a house in Gretna with family, where they'll become husband and wife.
Who knows, maybe Classic FM will even receive an invite…