Cellist who lost the use of his left hand because of brain cancer dies, aged 41
22 June 2018, 11:01 | Updated: 22 June 2018, 11:06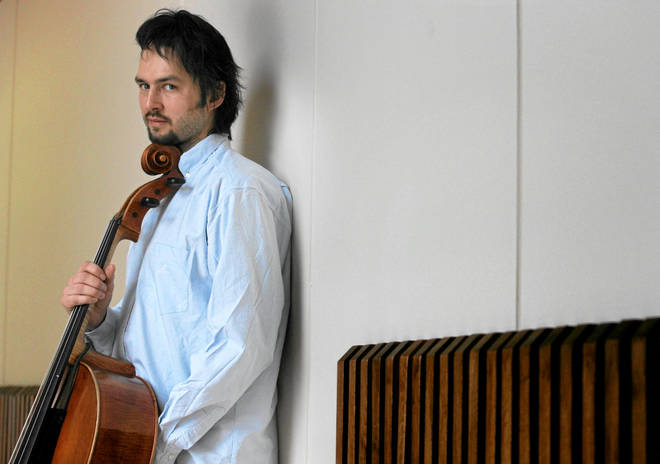 Dominik Połoński, the Polish virtuoso cellist who lost the use of his left hand to brain cancer, has died aged 41.
In 2004, Dominik Połoński's impressive career was brought to a halt when he was diagnosed with brain cancer. After several operations and a long period of rehabilitation, he lost the use of his left arm.
In 2009, Połoński became the only cellist in the world to play only with his right hand. Rather than playing traditional classical works, he started to play new, exciting contemporary pieces.
Several Polish composers wrote music specially for him, and his recordings became highly respected by the music community.
In a 2013 documentary by Bartosz Panek, Połoński said: "I feel that I am still not where I am going. I'm on the way. On the one hand it is inspiring that you are constantly in tension, on the move. On the other hand, I grow old, in a moment I will be 40 years old. However, I'm happy with what I do, I'm happy with the music I create with one hand."
Połoński's cello career began after he graduated from the Academy of Music in Łódź and the Escuela Superior de Musica Reina Sofia in Madrid, one of the highest regarded universities in the world for music.
Połoński won several prestigious competitions, including the Yamaha Music Foundation of Europe Competition and International Competition of A. Tansman in Łódź.
He played at prestigious venues around the world, including New York's Carnegie Hall and the Salle Pleyel in Paris.
He also took up teaching, and was known for being an assistant professor at two music academies in Łódź and Kraków.
In 2016, Połoński created 'Right Side of Cello', a documentary following his life with the cello, including how he played, cared for and had the instrument restored. The documentary also showed him playing with his daughter and spending time with his wife and newborn son.
Percussionist Dame Evelyn Glennie has paid her respects to Połoński on Twitter, saying "no talent could shine brighter".
I am deeply saddened to hear of the passing of #DominikPolonski...no talent could shine brighter. I had the great pleasure of playing with Dominik in the Double Concerto for Cello by Olga Hans. https://t.co/nl1Ch9Mc5W

— Evelyn Glennie (@DameEvelyn) June 21, 2018