Watch 'Carmina Burana' performed against the stunning backdrop of the Forbidden City in Beijing
11 October 2018, 14:04 | Updated: 11 October 2018, 14:08
The Shanghai Symphony Orchestra made history with the first classical concert in the Forbidden City since 1998 – and the whole thing was broadcast live in 360 degrees
On 10 October an orchestra tuned up and prepared to perform the first classical concert at the Imperial Ancestral Temple in Beijing's Forbidden City since 1998.
The world-famous landmark has in the past hosted stars like The Three Tenors, and this week it was the stage for a special concert from the Shanghai Symphony Orchestra conducted by Long Yu, along with soloists including pianist Daniil Trifonov, soprano Aida Garifullina, tenor Toby Spence and violinist Mari Samuelsen.
The concert was to mark the 120th anniversary of Deutsche Grammophon, (a milestone that makes it the world's oldest classical label) and was streamed live on YouTube both as a regular video and as a 360-degree video.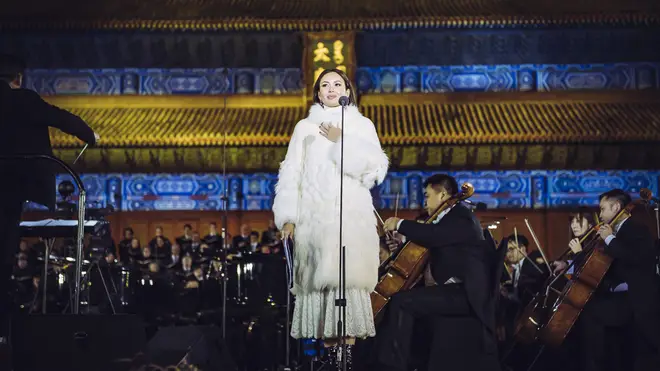 Dr Clemens Trautmann, president of Deutsche Grammophon, said in a statement: "We wanted to make a bold statement about the Yellow Label's sense of tradition, its truly international mindset and its vision for the the future of classical music, a vision that recognises the appetite for cultural collaboration and for sharing the art form in China, Southeast Asia and globally."
In his welcome speech at the concert itself he noted: "I find it fascinating that the Latin texts written by Bavarian monks, which form the basis for Carmina Burana on tonight's program, came into existence roughly at the same time as the Forbidden City was built in the 13th century."
The programme also included an arrangement of Liu Tianhua's Enchanted Night, 'November' from Max Richter's Memoryhouse and Rachmaninov's Second Piano Concerto.
The concert was the first in a year-long programme of anniversary celebrations, supported by Google Arts & Culture and Volkswagen Group. Future plans include The Shellac Project – in which rare archive recordings are digitised – and Yellow Lounge classical club nights.
Watch the full concert below.
#DG120 360° Live Stream - Forbidden City | Beijing, China - 10/10/2018