Jonathan and Hannah Goldstein: British composer, saxophonist wife and baby killed in alpine plane crash
28 August 2019, 09:52 | Updated: 29 August 2019, 15:11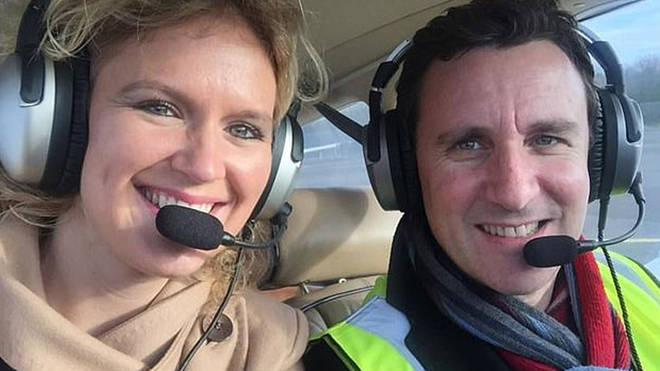 Award-winning composer Jonathan Goldstein, his saxophone soloist wife Hannah, and their baby died in a plane crash in the Swiss Alps on Sunday.
An acclaimed British composer and his musician wife and baby daughter have been killed in a plane crash in the Swiss Alps, according to a report.
Jonathan and Hannah Goldstein, both avid aviators, were flying with their daughter Saskia from Switzerland to Italy, near the Italian border, when their plane crashed in the Simplon Pass.
A family spokesman said: "We are all devastated by the news of Jonathan, Hannah and Saskia's deaths.
"We loved them all so very much. They were so happy together and we will miss them terribly.
"We would ask the media to respect the family's privacy at this extremely difficult time."
Mr Goldstein was an acclaimed composer whose company produces and sources music for film, TV, advertising and theatre.
Mrs Goldstein was a gifted saxophonist who had performed concerts at prestigious UK classical concert venues, including the Royal Albert Hall and Cadogan Hall.
According to local media, the couple took off in a Piper PA-28 arrow plane on Saturday morning from London and landed in Troyes, France, before making another stop in Lausanne, Switzerland where they stayed overnight.
Authorities have said they left for Perugia, Italy at 9am on Sunday, but crashed en route. The Federal Safety Investigation Authority has launched a probe into the crash.
A hiker walking in the Simplon Pass region with his family said he saw the horrifying scene when he spotted two burning objects fall. Christian Merz said he saw two people run towards the wreck in a desperate bid to help, but they were unable to get close because of the flames and smoke, which could be seen billowing from the wreckage.
An emergency helicopter was rushed to the scene to douse water on the fire before the bodies were recovered.
Jonathan Goldstein, who founded the Goldstein Music Group, began his career as a music director and composer for the Royal Shakespeare Company and Royal National Theatre.
He wrote music for Martin Scorsese's Cape Fear, the 1991 thriller starring Robert De Niro. In 2007, he was nominated for an Ivor Novello Award for his score to Primo, a BBC drama starring Anthony Sher.
Mrs Goldstein, who performed under the name Hannah Marcinowicz, had played saxophone with the BBC Concert Orchestra.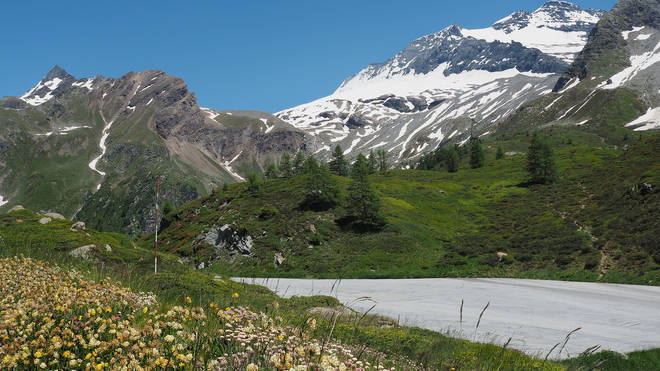 Jonathan Goldstein's company won several composition awards, for advertisement scores for Gilette, Volvo and Heineken. 'Real Children Don't Bounce Back', a TV advert by the NSPCC, won numerous creative awards.
"I think it was the hardest challenge I had ever been presented with, and probably ever will be: Scoring horrendous acts of violence being committed against a cartoon child and making it as funny as possible," Goldstein told Little Black Book in 2017.
"All the first drafts of the score were rejected because they weren't 'funny enough,'" he continued. "It was a surreal and painful experience but, my God, did they know what they were doing. I think it must be the bravest project I have ever worked on, with one of the most brilliant creative teams ever."
Hannah Goldstein, who was awarded a scholarship to study at the Royal Academy of Music, told the Watford Observer in 2016: "Music that strikes me is music that really moves me.
"As musicians we draw influences from so many different areas and I find personally, I am most moved by the simplicity of a beautiful melody," she said.
Friends and colleagues have been sharing their memories of the family on social media.
The Royal Academy of Music tweeted a message from its Principal, Professor Jonathan Freeman-Attwood, saying: "Hannah was such a genuine, lovely and open-minded person and musician. She kept in touch with several of us and we'll miss her hugely."
Writer Simon Treves paid tribute to Jonathan, saying: "Very upset to read of the death of brilliant composer Jonathan Goldstein and his family. Jonathan scored a Richard III I was in, with saxophones and drums. Stunning and unusual. And such a nice, modest man. RIP."
Musician Felix Hagan tweeted: "[Jonathan] gave me all the help in the world when I was starting out as a composer. He was such a talented and kind man."