Renowned Mali musician says customs "completely destroyed" his precious West African instrument
7 February 2020, 12:35 | Updated: 7 February 2020, 12:45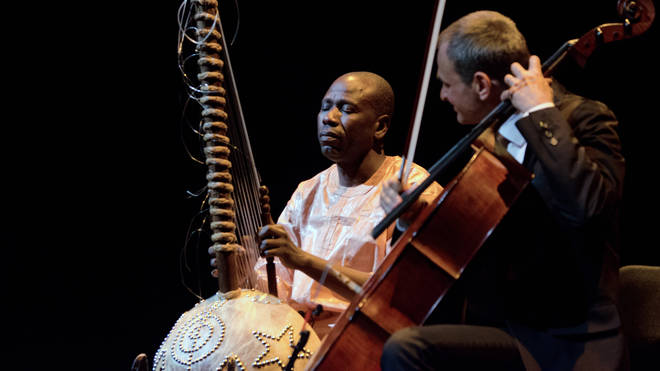 Ballaké Sissoko has criticised customs for causing severe damage to his tailor-made West African instrument, saying, "would US customs have dared to dismantle a Stradivarius?"
Ballaké Sissoko, described as "one of Africa's most outstanding performers", claimed on Wednesday (5 February) that US Customs in New York "completely destroyed" his tailor-made kora, the West African instrument on which he performs.
A post on his Facebook Page says Sissoko's "cherished, custom-made kora [was] completely destroyed by USA Customs, without any justification".
"The kora is a fragile, hand-crafted instrument, and Sissoko's kora is tailor-made to his own specifications. It is an intrinsic part of his very special sound. Would US customs have dared to dismantle a Stradivarius?"
According to the social media post, Sissoko boarded an Air France plane from New York to Paris on 4 February, having finished a two-week US tour with his string group 3MA. He checked in his kora in its hard case, which he picked up on arrival in France and took home.
It wasn't until the next morning that Sissoko opened the case and was shocked to find his instrument in pieces, along with a note from US customs with the – slightly unfortunate – motto: "Intelligent security saves time".
The Facebook post gives a detailed account of the damage to the kora – a 21-string lute-bridge-harp which Sissoko can be seen playing in the video below.
"The neck of the kora has been removed. The strings, bridge and entire, delicate and complex sound system of amplification have been taken apart. The kora is in pieces.
"Even if all the components that have been dissembled were intact, it takes weeks before a kora of this calibre can return to its previous state of resonance. These kinds of custom-made koras are simply impossible to replace. They are certainly not available in shops."
At the end of the post, Sissoko alleges that US Customs treated his instrument poorly because of its origins, implying racial bias.
"Would they have dared do such a thing to a white musician playing a classical instrument? What does this tell us about the attitude of the administration towards African musicians?" the post reads.
"This is an unprovoked and sad act of aggression, a reflection of the kind of cultural ignorance and racism that is taking over in so many parts of the world and that endangers the best of musicians from Africa and elsewhere."
Although the statement blames US Customs and Border Protection, Sissoko's photo of the instrument included a note from the Transportation Security Administration (TSA). TSA have told the Gothamist that they did not open the case, and the "bag tag" was put on it to show staff it had been screened and cleared.
A TSA spokesperson said in a statement: "It is most unfortunate that Mr. Sissoko's instrument was damaged in transport, however, after a thorough review of the claim, it was determined that TSA did not open the instrument case because it did not trigger an alarm when it was screened for possible explosives."