ANOTHER smashed instrument - this time on an American Airlines flight
15 February 2018, 14:36 | Updated: 15 February 2018, 14:49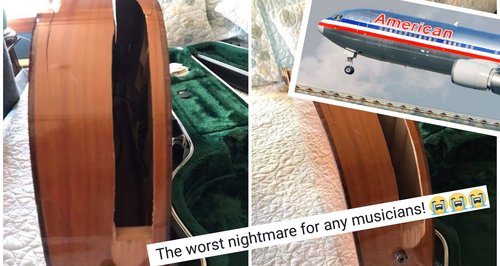 Facebook post suggests yet more instrument mistreatment at our airports.
Earlier today George Kahumoku Jr, a four-time Grammy Award-winning Hawaiian slack key guitarist, was traveling on American Airlines from Philadelphia to Minnesota. The body of Kahumoku's instrument was smashed during the flight.
Another nightmare - an airline smashes 17th-Century viola da gamba
The damage we reported by Gao Hong, a lecturer and ethnomusicologist at Carleton College, Minnesota. Kahumoku had been traveling to the college to present a lecture for students.
Gao Hong moved to the United States from China in the mid-1990s, and claims that on three different occasions, airlines have broken three of her traditional Chinese wind instruments.
Slack Key is a guitar technique originating from Hawaii, where guitar strings are de-tuned and 'slackened' until they form a chord when played together. Kahumoku received the 2007 Grammy Award for Best Hawaiian Music Album for the compilation 'Legends Of Hawaiian Slack Key Guitar — Live From Maui.'