An airline destroyed this precious 17th-century instrument, but the repair work is spectacular
3 January 2019, 15:11 | Updated: 3 January 2019, 16:58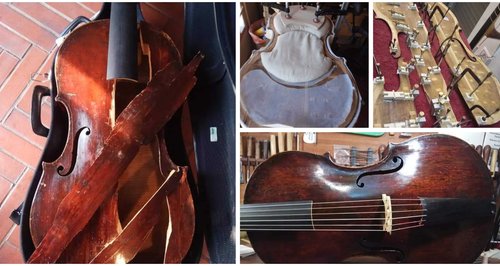 The owner of a 17th-century instrument was left devastated after a 2018 an Alitalia flight, but we're delighted to report that there's been a happy ending.
A smashed viola da gamba
In January 2018, musician Myrna Herzog posted images of her viola da gamba and the damage it sustained after an Alitalia flight from Rio de Janiero to Tel Aviv.
The instrument, which Ms Herzog said is worth $200,000 (£148,000), was shown smashed in the photograph inside its case, which was also damaged.
Ms Herzog posted the photos to Facebook, along with the message: "Alitalia hates musicians … this is how Alitalia delivered to me my original 17th century Lewis viola da gamba … it was savagely vandalized."

The promise to fix a broken instrument
A few weeks after the incident, Ms Herzog published a new post on Facebook, saying the airline has now reimbursed her for the damaged instrument, and that they behaved with "great fairness".
"Alitalia has taken full responsibility for the damage on my instrument and that has just reimbursed me for all the expenses resulting from the damage of instrument, case and bow," she said.
"Thanks to the unfortunate accident, the company is also reviewing their policy regarding musical instruments. This could make Alitalia the preferred airline for musicians and music lovers. I will continue to fly Alitalia, as I always did.
"In the meantime, Luthier Shlomo Moyal is doing a wonderful restoration work on the Lewis viol (seen in the photos with its twin, cut from the same tree)."

A fully repaired Viola da gamba
In January 2019, Luthier Shlomo Moyal posted pictures of his repair project, showing the expert and painstaking process of rebuilding the instrument, and the finished result.



When she shared the news of the repairs on Social Media, Myrna Herzog wrote "WOW, WOW, WOW! Shlomo Moyal, this is GREAT!!!!!! THANK YOU! What a New Year present! ...May you keep doing those amazing miracles of bringing to life and back to life wonderful instruments, with your professionalism, expertise and ART!"