Alexander Armstrong plays oboe on his second album, 'Upon a Different Shore'
9 November 2016, 11:19 | Updated: 5 January 2017, 15:57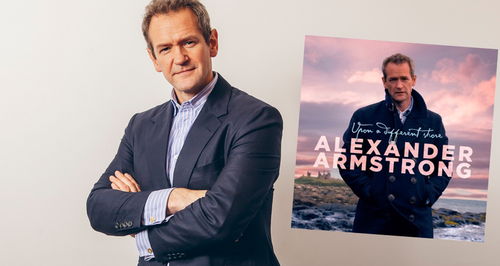 Classic FM presenter Alexander Armstrong sings and plays oboe on the follow up to his no.1 debut album, 'a 16-track modern symphony'.
Armstrong, who was a choir boy at Durham Cathedral and choral scholar at Trinity College, Cambridge, stormed the classical chart in 2015 with 'A Year of Songs', his first solo album.
His new record is called 'Upon a Different Shore', and is described by Armstrong's label East West Records / Warner Music as "a 16-track modern symphony enriched with breathtaking composition and arrangements that make Ralph Vaughan Williams and Stephen Sondheim work seamlessly with songs originally by Pink Floyd and Sting, to name just a few".
Listen to Alexander Armstrong sing on 'A Year of Songs' >
Among the traditional folk songs and classical compositions by Vaughn Williams and cellist Caroline Dale are two that feature oboe performed by Alexander Armstrong.
Armstrong had not played his oboe in nearly 30 years, only taking it up again last April.
Armstrong even branches out into dance music, singing a version of Kygo's 'Firestone' with backing from The Bach Choir:
"I am beyond excited by this album," he told Classic FM. "I can't go very long without having to listen to it again."
Describing the eclectic selection of pieces on the recording, he said: "We wanted to find arrangements that would be witty, that would throw new light on pieces the we know well."
Alexander Armstrong describes his new album in the Classic FM studio
Full tracklisting for 'Upon a Different Shore'
1. Upon A Different Shore (Traditional)
2. MacArthur Park (Jimmy Webb)
3. The Vagabond (Vaughn Williams)
4. Long Ago Forgotten (Caroline Dale)
5. Fields Of Gold (Sting)
6. Studies In English Folksong #2 (Vaughan Williams)
7. Scarborough Fair / Canticle (Trad arr. Paul Simon)
8. Golden Brown (The Stranglers)
9. Firestone (Kygo)
10. Sunday (Sondheim)
11. Between The Sunset And The Sea (Caroline Dale)
12. Without A Song (Youmans/Rose/Eliscu)
13. The Day Thou Gavest (Ellerton/Scholefield)
14. Hymn Song (Peter Skellern)
15. High Hopes (Gilmour/Samson)
16. The Parting Glass (Armstrong's Goodnight) (Trad.)