Quarantined opera singer performs 'Nessun dorma' in his garden to thank NHS heroes
22 April 2020, 13:54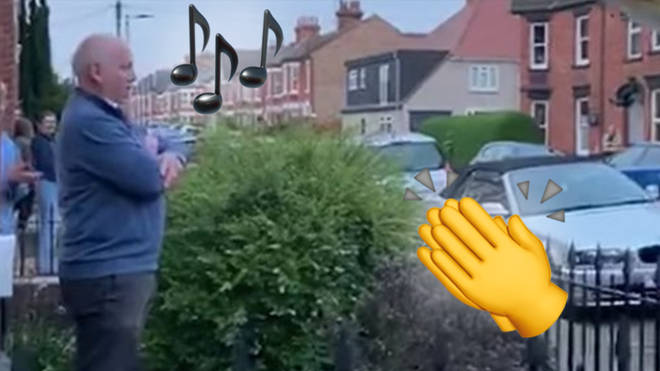 As Britain's carers work tirelessly to protect our loved ones during the COVID-19 outbreak, an opera singer pays tribute with Puccini...
A self-isolating opera singer has performed 'Nessun dorma' in his front garden to thank the NHS's frontline workers, amid the coronavirus pandemic.
The Bedfordshire-based tenor, Bonaventura 'Bon' Bottone, sang his mighty al fresco version of Puccini's famous aria to his neighbours last Thursday, during the weekly Clap for our Carers initiative.
In the video (watch below), we see the singer step outside his home on Goldington Avenue and belt out the words to the popular tune, which features in the final act of the composer's 1926 opera, Turandot, and found its fame with Luciano Pavarotti.
Over the past few weeks, we've seen quarantined musicians perform everywhere – from Italian balconies and in sheds with alpacas to daunting hospital rooftops – but this charming garden concert is a quintessentially British move from Bottone.
Click here to view the NHS's latest coronavirus advice >
Read more: Violinist plays for Italy's healthcare workers from Cremona hospital rooftop >
The tenor, who trained at the Royal Academy of Music in London, has quite the illustrious operatic past – including playing Rodolfo with English National Opera in Puccini's La bohème and Don Basilio with Royal Opera House in Mozart's The Marriage of Figaro.
He told the Bedford Independent: "I was asked by my neighbour if I would sing something not only to applaud the NHS, which of course is paramount, but to bring some cheer to the residents of the Avenue given the restrictions we are keeping.
"When we come outdoors to clap for the NHS it certainly helps to break the feeling of isolation and see the street come alive with familiar faces. One neighbour said how she found the sound of silence during the day and night very disconcerting. The applause and social connection on a Thursday night helped to relieve this sense of change in our world."
Explaining his choice of song, he added: "I picked 'Nessun dorma' as it is well known. This is not a love song but a song of suspended hope – I felt that it fits the situation as we are in lockdown and have to wait for the moment to be free once more. The final words that Calaf sings is 'Vincerò Vincerò', meaning I will overcome (win)."
As thousands of heroic NHS staff work around the clock to keep our loved ones safe during the COVID-19 outbreak, Bottone's impromptu garden display is just the kind of uplifting content we all need.