Who composed the 'Mary Poppins Returns' soundtrack – and what are the songs?
11 January 2019, 13:02 | Updated: 11 January 2019, 13:06
The sequel to Mary Poppins offers an all-original new soundtrack, featuring the vocals of Emily Blunt – and the composing talents of Marc Shaiman.
With songs like 'Step in Time' and 'Supercalifragilisticexpialidocious', the soundtrack to the original Mary Poppins (1964) film was always going to be a tough act to follow.
But the soundtrack to the film's sequel Mary Poppins Returns, which has recently been nominated for a BAFTA Award for Best Original Music, is surprisingly in keeping with the feel of the original.
Emily Blunt was 'intimidated' by filling Julie Andrews' shoes >
The new motion picture soundtrack features 27 tracks – nine of which are brand-new songs by composer Marc Shaiman and lyricist Scott Wittman, who previously worked together on Hairspray and the 2013 stage production of Charlie and the Chocolate Factory.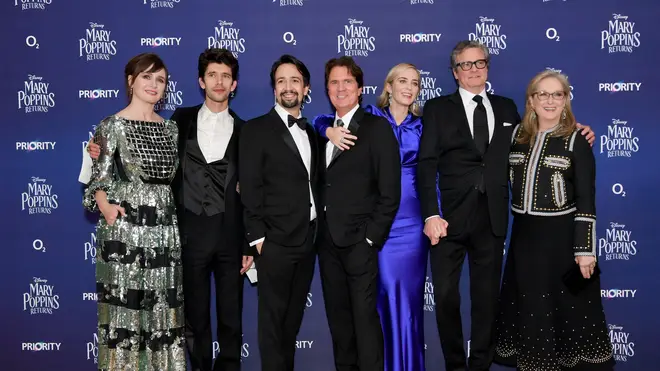 How can I listen to the soundtrack?
Disney has just released the full album on Spotify, including the tracks 'Trip a Light Fantastic' and 'The Place Where Lost Things Go', sung by Lin-Manuel Miranda and Emily Blunt respectively.
The soundtrack also features a performance by Meryl Streep, who plays Topsy – Mary Poppins' eccentric cousin who involuntarily spends every second Wednesday upside down.
Lin-Manuel Miranda talks rapping in Mary Poppins Returns >
Dick Van Dyke, who featured in the 1964 original as Bert, has also lent his voice to the soundtrack in 'Trip a Little Light Fantastic (Reprise)', as have cast members Ben Whishaw and Angela Lansbury.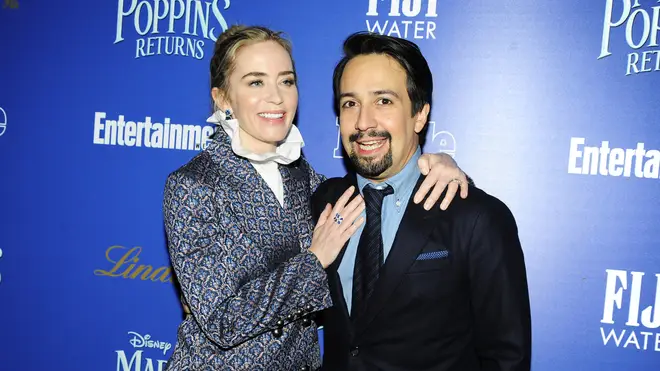 Who wrote the soundtrack to Mary Poppins Returns?
The songs from the original Mary Poppins film, written by brothers Robert and Richard Sherman, are widely considered one of the best original work for a screen musical.
On writing the score for the sequel, lyricist Scott Wittman told BBC News: "Rob Marshall didn't want Mary Poppins to sing something like 'Let It Go' [from Frozen]. We agreed the music was going to live in period in Cherry Tree Lane, like in the first movie.
We asked a professional soprano to analyse Emily Blunt's singing voice >
"The fact it was set in the Depression of the 1930s helped as well – Marc and I are fans of British popular songs of that era, like Flanagan and Allen.
"So Lin-Manuel Miranda's opening song, Lovely London Sky, has that feel. Lin put it very well: our film has to rhyme with the 1964 film."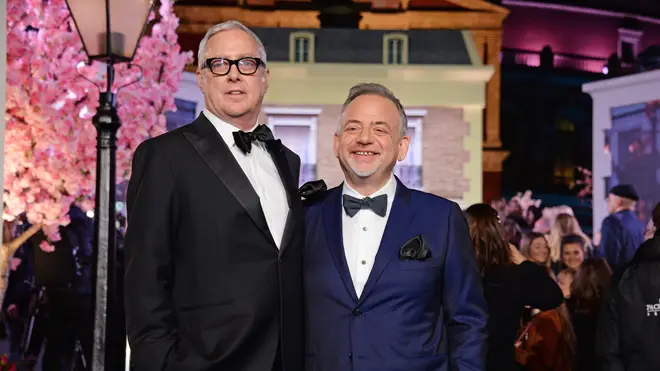 Mary Poppins Returns tracklist – Marc Shaiman and Scott Wittman
1. (Underneath the) Lovely London Sky – Lin-Manuel Miranda
2. Overture – Marc Shaiman
3. A Conversation – Ben Whishaw
4. Can You Imagine That? – Emily Blunt with Pixie Davies, Joel Dawson and Nathanael Saleh
5. The Royal Doulton Music Hall – Emily Blunt, Lin-Manuel Miranda, Pixie Davies, Joel Dawson and Nathanael Saleh
6. Introducing Mary Poppins – Lin-Manuel Miranda and Emily Blunt
7. A Cover Is Not the Book – Emily Blunt and Lin-Manuel Miranda and Company
8. The Place Where Lost Things Go – Emily Blunt
9. Turning Turtle – Meryl Streep with Emily Blunt, Lin-Manuel Miranda, Pixie Davies, Joel Dawson and Nathanael Saleh
10. Trip a Little Light Fantastic – Lin-Manuel Miranda with Emily Blunt, Tarik Frimpong, Pixie Davies, Joel Dawson, Nathanael Saleh and Leeries
11. The Place Where Lost Things Go (Reprise) – Joel Dawson, Nathanael Saleh and Pixie Davies
12. Trip a Little Light Fantastic (Reprise) – Dick Van Dyke with Emily Blunt, Lin-Manuel Miranda, Ben Whishaw, Pixie Davies, Joel Dawson and Nathanael Saleh
13. Nowhere to Go But Up – Angela Lansbury, Ben Whishaw, Pixie Davies, Joel Dawson, Nathanael Saleh, Lin-Manuel Miranda, Emily Mortimer, Julie Walters and Company
14. (Underneath the) Lovely London Sky (Reprise) – Lin-Manuel Miranda
15. Theme from Mary Poppins Returns – Marc Shaiman
16. Kite Takes Off – Marc Shaiman
17. Mary Poppins Arrives – Marc Shaiman
18. Magic Papers – Marc Shaiman
19. Banks in the Bank – Marc Shaiman
20. Into the Royal Doulton Bowl – Marc Shaiman
21. Rescuing Georgie – Marc Shaiman
22. Off to Topsy's – Marc Shaiman
23. Chase Through the Bank – Marc Shaiman
24. Lost in a Fog – Marc Shaiman
25. Goodbye Old Friend – Marc Shaiman
26. Race to Big Ben – Marc Shaiman
27. End Title Suite – Marc Shaiman