Kristin Scott Thomas on Military Wives film: 'Singing just makes you feel good'
3 March 2020, 10:28 | Updated: 4 June 2020, 16:10
The star of the new Military Wives movie on the healing power of choirs, the transformative experience of hearing orchestras – and what truly terrifies her about going on stage.
Dame Kristin Scott Thomas is the epitome of composure, eloquence and elegance – all traits that come in handy for the business of communicating music, both in performance and as the director of a musical group.
A natural fit, then, to play the amateur choir director, Kate, in the new film telling the story of the real-life Military Wives Choirs, first set up for the wives and girlfriends of military personnel serving in Afghanistan in 2010 and later featured in Gareth Malone's The Choir TV series.
We meet in a secluded suite at Soho Hotel, Kristin fresh from her filming and ready to talk enthusiastically about the transformative experience of singing in the film, and her wider love of music.
"It was chaos!" Scott Thomas laughs, explaining that – just like in the film – the cast were required to sing together with little-to-no preparation ahead of filming the first rehearsal scene.
"We had individually practised, but at the start we were timid and all thought 'I can't do this, it's way too hard!' or 'Why have they put me at the back?' And then little by little, it started to take form.
"By the end we were all high-fiving and super happy to have finally got something that was actually half good."
Read more: First look at Military Wives film based on Gareth Malone's choir >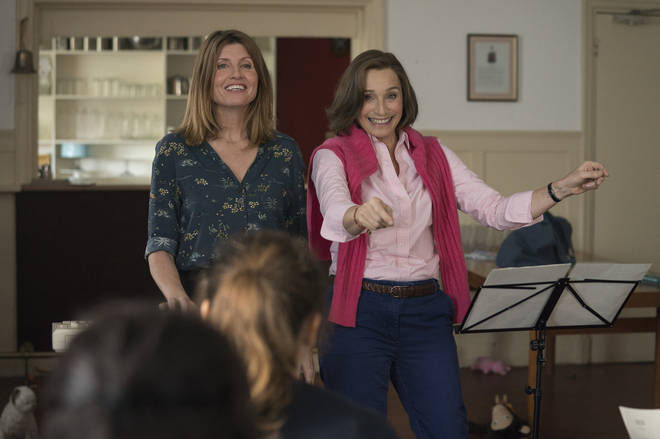 Scott Thomas is modest about her singing ("Sharon [Horgan, my co-star] is a much better singer than I am") but all the actors are heard singing live in the film, and Scott Thomas' Kate has a good voice.
"We all loved the singing. Loved it," Scott Thomas says. "Especially the final song in the film – it gives me goose bumps just thinking about it."
The film follows a Commanding Officer's wife, Kate, as she takes on the job of coming up with recreational activities to divert and support women whose boyfriends, girlfriends, husbands and wives are away serving in Afghanistan. Kate can be pushy and brusk, at times clashing with Lisa (Horgan), who has also been put in charge of supporting the wives and girlfriends with recreational activities.
Pushed by Kate, they land on the idea of singing together, and rather clumsily form and rehearse as a choir. The climax of the film sees them perform at the Royal Albert Hall.
As well as being known to boost mental health, singing uses the whole body and has clear physical benefits. "It's absolutely about getting the air in, it's as simple as that," Scott Thomas says.
"Singing, like sport, is known to make you happier and give you space for your head. And the accomplishment of singing one part while someone else sings another, and it all coming together at the end, is just so exciting. Singing just makes you feel good."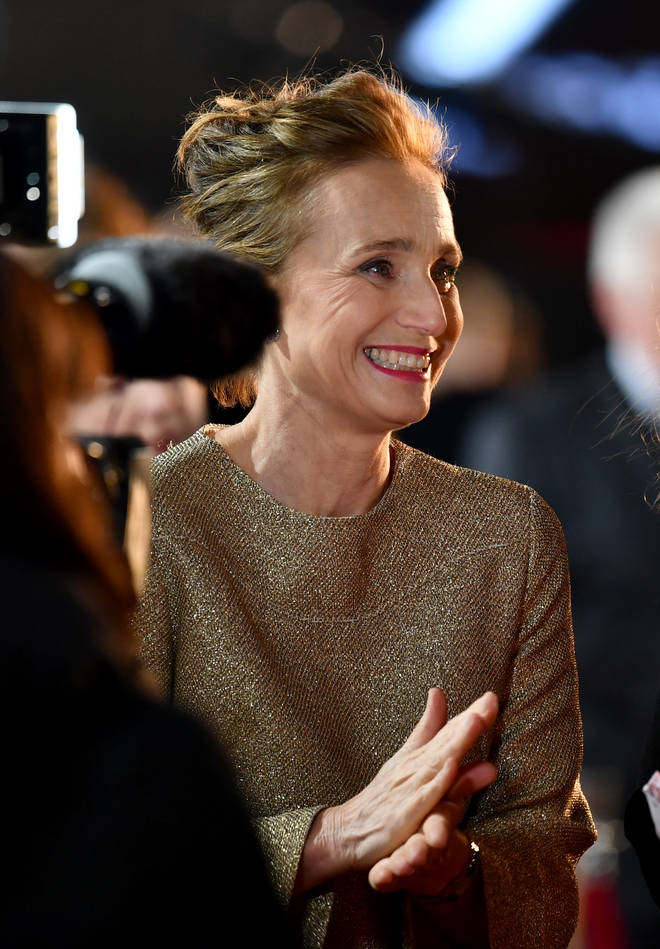 Scott Thomas' previous singing experience doesn't go much beyond her own school choir, but recently she did get the chance to appear on stage with the London Philharmonic Orchestra at the Royal Festival Hall.
"It was such a thrill to work with an orchestra," she says. "I had never worked with an orchestra before in my life, but I had always had fantasies about how wonderful it must be to experience playing in one."
Scott Thomas narrated Persephone, Stravinsky's stage work for speaker, solo singers, choir and orchestra in 2018, with Thomas Adès conducting.
"To see Thomas Adès conducting and to hear how all these musicians were just on it, was just utterly brilliant – I just loved it," the actor says.
"And the thing that really struck me was the fine-tuning of Adès' ear. There were two harps, and the whole orchestra was playing until Tom said, 'Harps, let's go back to bar whatever-number-it-was…' – he was using all this jargon and my eyes were out on stalks and my ears were buzzing – and the harpist says, 'This bit?' and Adès, says 'No, the other part'. It just blew me away how he could hear the difference."
But for Scott Thomas, music-making at that fine-tuned orchestral level is no more valuable than any other form.
"Every level of music-making is important. You see people get such pleasure from just making music from an object – just banging a drum. People get such pleasure from producing sounds, and I think it's so important to encourage that – it's such a simple thing and especially powerful when it's your own voice."
Read more: Elton John – 'It's tragic that music is being taken out of schools' >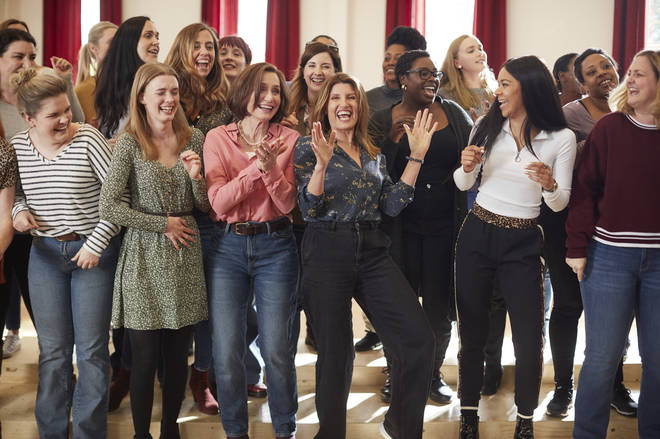 Starring in Military Wives was a natural fit for Scott Thomas, herself the child of a military family, born in Redruth in Cornwall.
Her father, who she tragically lost when she was just five, was naval pilot Lieutenant Commander Simon Scott Thomas, and her stepfather, Lieutenant Commander Simon Idiens, was a naval pilot as well.
Like Scott Thomas' father, Idiens died in a flying accident when Scott Thomas was 11. She must, then, identify closely with the women of the Military Wives Choir, left behind on the home front fearing the worst news from their husbands and wives in Afghanistan?
"There's something about being brave – stiff upper lip, that sort of thing – that I was ready to have a go at," Scott Thomas confides.
Her character, Kate, is a Commanding Officer's wife and responsible for providing pastoral care to wives and families suffering bereavements, which is "a tough job".
"When I first read the script, I thought this is a film with just such a great heart. It was generous, and gave the characters a chance to be multifaceted, which is always a good thing to read."
She describes the character as "sometimes funny, sometimes angry, sometimes sad, sometimes lost" and says she related in a way to Kate's controlling nature – "it has something to do with being the eldest!" she laughs.
The nerves and tensions surrounding public performance are a big theme in the second half of Military Wives as the choir is invited to perform at the annual Festival of Remembrance at the Royal Albert Hall in London.
The boiling point comes when Kate and Sharon Hargon's character Lisa have an all-out row before leaving for London. It's an incredibly powerful and emotional watch, and Scott Thomas is candid about the fact we all experience moments like it from time to time.
"We wanted that argument to be really vicious. It's that thing that happens when you're really nervous about something – the displaced anxiety that just all comes out onto that other person.
"I think we have all had moments where we have had our walls come down, lost our temper and regretted it bitterly afterwards – and felt so embarrassed and so ashamed."
Read more: We played 'Would you rather...' with Gareth Malone at Classic FM Live >
Military Wives' director (Peter Cattaneo), writers (Rachel Tunnard and Rosanne Flynn) and actors, including Scott Thomas, met the original Military Wives Choir founders and were able to hear firsthand about the incredible support the choirs offered – as well as that nerve-wracking experience of getting used to performing publicly.
At one point in the film, one of the singers hides under a table shrouded in darkness by a tablecloth, in a bout of pre-performance nerves.
Does Scott Thomas still experience stage fright? "Performance is a balancing act, especially when with other people, which is why being in this orchestra in 2018 impressed me so much. You have to know what the other person is doing, and be supple enough to react to them," she says.
"Of course I get nervous, but I've been lucky enough to have been in productions that I felt incredibly confident about, and working with people who I really trusted."
So what does scare Kristin Scott Thomas?
"One thing I get very nervous about, and it's pathetic, is if I have to be me – Kristin – standing up and speaking as myself. That's a disaster and I'm a jabbering wreck."
Military Wives is available to download digitally from various channels from Monday 29 June, and is out on Blu-Ray and DVD on Monday 6 July.
The Military Wives Official Soundtrack is out now on Decca Records and you can click here to find out more about the Military Wives Choirs.