Easter music: the 14 greatest classical pieces
18 April 2019, 16:01 | Updated: 18 April 2019, 21:23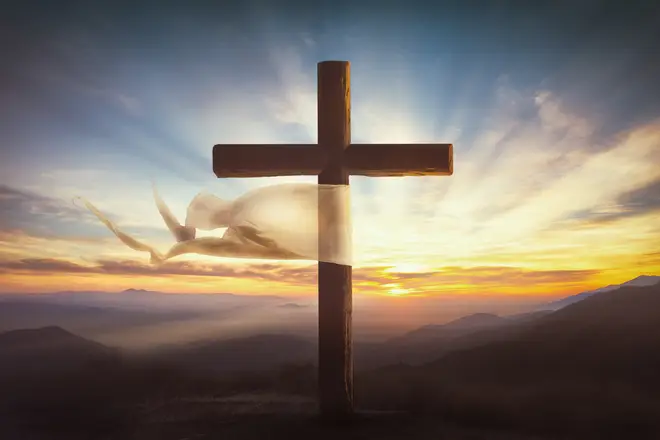 From Bach's Passion music to Handel's Messiah, here are our top pieces of music that depict the final days of Jesus and his resurrection.
With so much classical music on offer on the subject of Easter and Jesus on the cross, here are our favourite pieces of music that are perfect for Easter weekend.
St. John Passion – Bach

Bach's St. John Passion is the earlier of the two Easter story settings of his that have survived.

It was composed in 1724 for the Good Friday Vespers service that year, setting Chapters 18 and 19 of John's accounts of the crucifixion to music.

Here's a guide to JS Bach's incredible Passion music >

It is well worth sitting down and listening to this work in its entirety if you haven't done so before.

Bach - St John Passion BWV 245 - Van Veldhoven | Netherlands Bach Society

St. Matthew Passion – Bach

The monumental St. Matthew Passion is hailed as the greatest setting of the Passion story in Western music but surprisingly, it was not until almost 100 years after its premiere that Bach's music got the recognition it deserved.

Classic FM's Fast and Friendly Guide to Bach

Composed in 1727, it is a setting of sections of St Matthew's Gospel, designed as part of Good Friday Vespers for the strict Lutheran stronghold of Leipzig. Following its premiere, it received two subsequent performances in 1736 and the 1740s. After that it was not performed again for almost 100 years.

Messiah – Handel

Although we know this piece from its iconic 'Hallelujah' chorus, there is so much more to this essential piece of Easter music.

Since its premiere in 1742, it has been performed by choirs across the world every year since at least 1745.

Handel began composing the Messiah in 1741, and took a painstaking 14 years to arrive at the version we know today.

Impressive solo arias, like 'Ev'ry valley shall be exalted' and 'Rejoice greatly, O daughter of Zion' are interspersed with compelling chorus numbers, telling the story of Jesus' birth, life, death, resurrection, and final victory over sin and death.

The rousing 'Hallelujah' chorus is by far the most widely-known section of the work, and audiences tend to stand during performances – a tradition that allegedly began when King George II stood during the chorus at the oratorio's London debut performance.

Amazing Grace – John Newton

'Amazing Grace' is one of the world's most recognisable melodies. Not only is it a popular hymn, there are also countless recordings of the song, including Aretha Franklin's, and Elvis Presley's have given the song worldwide recognition.

Aretha Franklin - Amazing Grace (Official Audio)

The hymn was first published in 1779 by the English poet and clergyman John Newton. The song shares the message of forgiveness and redemption, an important message to appreciate over Easter.

Symphony No. 2 ('Resurrection') – Mahler

This monumental orchestral work is really quite something to behold.

Up until this point, Mahler shared a confused standpoint on religion, but this symphony became his first piece to establish his view of the beauty of the resurrection.

Gustav Mahler: Symphony No. 2 "Resurrection" (Lucerne Festival Orchestra, Claudio Abbado)

Mahler was moved to incorporate the line "Rise again, yes, you shall rise again / My dust" as the opening to the final movement of his second symphony.

Although Mahler was compelled to use the resurrection as subject matter for the symphony, it isn't as straightforward as the title might suggest. This symphony explores life and death in all its light and dark facets.

Here's a detailed explanation of how Mahler's Symphony No. 2 is a heart-shattering work of genius >

How Great Thou Art – Carl Boberg

'How Great Thou Art' is a traditional Christian hymn based on an anonymous melody and a poem written by Carl Boberg in 1885.

WINCHESTER CATHEDRAL-HOW GREAT THOU ART

It has previously been voted as the United Kingdom's favourite hymn, and second on a worldwide ranking, only pipped to the post by 'Amazing Grace'.

Miserere – Allegri

Allegri - Miserere mei, Deus

This haunting choral work by Gregorio Allegri sets the Latin text of Miserere mei, Deus (in fact the piece's full title) from Psalm 51 to music for two choirs.

It's not certain when Allegri's Miserere was composed, but we know it was during the reign of Pope Urban VIIII, probably during the 1630s. It would have been used for services in the Sistine Chapel on Holy Wednesday and Good Friday of Holy Week.

Russian Easter Festival Overture – Rimsky-Korsakov

This romantic score by Rimsky-Korsakov is a fresh deviation from most choral works associated with religious holidays.

The score is prefaced by two quotations from the Old and New Testaments, and a third written by the composer himself.

Rimsky-Korsakov - Russian Easter Festival Overture, Op. 36

The Russian Easter Festival Overture is the composer's account of an Easter morning service – "not in a domestic chapel, but in a cathedral thronged with people from every walk of life, and with several priests conducting the cathedral service."

Invictus: A Passion – Howard Goodall

Howard Goodall's 'Invictus: A Passion' sounds amazing. The work receives its European premiere in London tonight. Hear it complete on Classic FM on Tuesday night at 8pm.

Posted by Classic FM on Friday, 25 May 2018

Composer Howard Goodall said of his new work:

"Much of the Passion in general – persecution of the innocent, malevolent authority exerting itself against ideas that threaten and challenge, the power of a peaceful, loving humility in the face of tyranny, the facing-down of fear – holds profound universal resonance for people of many faiths and those of none. It is this universal meaning that my Invictus: A Passion hopes to address, so that [...] it might find relevance with choirs and their audiences or congregations everywhere."

Parsifal – Wagner

Parsifal - Karfreitagszauber - Good Friday Music - Wagner - Kempe

Wagner's opera Parsifal all takes place on Good Friday. The Good Friday music from Act III of the opera is a standalone work of art in its own right, but if you have a few hours to spare, we'd recommend you listen to this sublime opera in its entirety.

Cavalleria Rusticana – Mascagni

Cavalleria Rusticana 1968 - Herbert von Karajan

Mascagni's verismo opera Cavalleria Rusticana is set in a small Sicilian town on Easter Sunday.

Along with the orchestral 'Intermezzo', the 'Easter Hymn' is the stand-out piece in this one-act opera.

The Seven Last Words of Christ – Haydn

Joseph Haydn - The Seven Last Words of Christ (Full Concert) (Full HD)

The Seven Last Words of Christ, or using its full name The Seven Last Words of Our Saviour on the Cross is an orchestral work composed by Joseph Haydn for the 1786 Good Friday service at Oratorio de la Santa Cueva in Spain.

The composer adapted the music three times – once in 1787 for string quartet, again in 1796 as an oratorio for solo and chorus, and he also approved a solo piano version.

Easter Oratorio – Bach

J.S. Bach - Easter Oratorio, BWV 249

It's no surprise that with a catalogue that includes both of his Passions and the Easter Oratorio, Bach is hailed as one of the finest classical composers of sacred music.

The first version of the work was actually completed as a cantata for Easter Sunday in 1725, but it was later given the Easter Oratorio title in a revived version ten years later.

The Easter Oratorio has four characters assigned to the four voice parts; Simon Peter (tenor), John the Apostle (bass), Mary Magdalene (alto) and Mary Jacobe (soprano).

Lamentations of Jeremiah the Prophet – Tallis

Thomas Tallis - Lamentations of Jeremiah I

This is the first of many settings of The Lamentations of Jeremiah the Prophet by a number of composers.

Thomas Tallis scored the work for five voices – an alto, two tenors and a two basses in the Latin text of the bible used in Tallis' lifetime.