These are the 10 greatest key changes in all pop music
29 September 2023, 20:47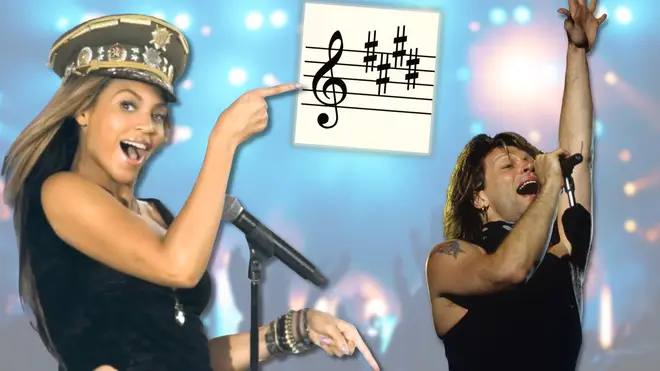 The times when pop music gave us the most epic, and emotionally satisfying key changes. Here are ten of the very best.
Over centuries of music, composers have used modulations and changes in the key of the music to express emotion, drama and excitement.
In pop and rock music a shift up a semitone is always a memorable moment, as a song clicks into an upper gear. Here are a few of the very best.
Read more: 17 pop songs you didn't know were inspired by classical music
Michael Jackson – 'Man In The Mirror'

One of the greatest key changes in music history. The epic, gospel-infused ballad from 1988 gives us one of the best semitone shifts as G major lifts to A flat major in a blaze of sonic glory. And with impeccable good grace or genius design, it all happens on the word 'change'.

Skip to 2:45 to hear the magic.

Michael Jackson - Man In The Mirror (Official Video)

Whitney Houston – 'I Have Nothing'

Whitney Houston has given the music world some incredible key change moments – and you might expect this to be all about 'I Will Always Love You'. But 1992's 'I Have Nothing' has one of the cleverest and most spine-chillingly effective keychanges. Whitney sounds utterly at home, stable and safe in the home key, but for the final chorus it's completely upended by one single note, when she hits 'Close'.

Skip to 3:30 and listen in awe.

Read more: Whitney Houston sings extraordinary Verdi aria with Pavarotti

Whitney Houston - I Have Nothing (Official HD Video)

The Temptations – 'My Girl'

Absolutely beautifully set up by the preceding instrumental section, the genius of this Motown classic's key change is how expertly choreographed it is – you see it coming, you feel it coming, and then it actually sounds better than you thought it could.

Skip to 1:30 for a moment of pure musical beauty.

The Temptations - My Girl (Lyric Video)

Beyoncé – 'Love On Top'

Queen Bey grew up in the golden age of the key change in the 1980s and 90s, so it's no surprise she's keen on incorporating prime examples of the technique into her own incredible work.

But 'Love On Top' hits another level altogether, with four key changes in under 90 seconds, as the music pulsates in peerless Beyoncé brilliance.

Skip to 1:30 for an unforgettable quartet of change.

Read more: Beyoncé sang the national anthem to combat miming criticism, and nailed it

Lady Gaga – 'Perfect Illusion'

A great key change, and impeccable placement. This monster key-change has a perfect sonic setup, and takes place at 111 out of 179 seconds of the song, or the golden ratio sweet spot, 1.618.

Composers like Johann Sebastian Bach and many other mathematically-minded creatives loved using the golden ratio to give shape and structure to their work. Gaga's in good company.

Skip to 1:40, or the golden ratio on your YouTube scroll bar.

Lady Gaga - Perfect Illusion (Official Music Video)

Randy Crawford – 'Street Life'

This is a harmonically complex song anyway, so perhaps it's no surprise that the key changes are simply one element of it, used alongside those crunchy brass chords and thundering bassline.

Not only does the key shift into a far brighter territory at the arrival of the chorus, it only waits for one iteration before it knocks it up another semitone. It's a brazen but extremely effective technique.

Skip to 1:10 and enjoy.

Street life-Randy Crawford

Bon Jovi - 'Livin' On A Prayer'

This adrenaline-filled song is a pop epic, and an uplifting favourite of many a dance floor. And everyone waits for the pure magic of the key change, which brings Bon Jovi's cries higher still. A 3/4 bar hits just before the shift, for extra dramatic effect.

Skip to 3:15 for the heart-pounding moment.

Bon Jovi - Livin' On A Prayer

The Beach Boys – 'Wouldn't It Be Nice'

Top marks for inserting a key change in an unexpected place – within the first ten seconds. Most key changes absolutely relish their place late in the song, but Brian Wilson just upends the whole thing by bringing that sunshine lift before a single word has been sung. Genius and pure joy.

Skip to: 0:00

The Beach Boys - Wouldn't It Be Nice (Original Video)

Celine Dion – 'My Heart Will Go On'

This abiding tune from the late James Horner gives us one of the great melodic builds and key changes.

At the song's climax the Celtic flute ascends, drums sound and E major becomes F minor in a shift that's truly titanic in its emotional proportions.

Skip to 3:20 for the late 90s at its very best.

Céline Dion - My Heart Will Go On (Official 25th Anniversary Alternate Music Video)

Queen – 'The Show Must Go On'

Our list ends with this 1991 power ballad and some of the most inspired use of tonality in music. The legendary group recorded the song when Freddie Mercury was near the end of his life.

The song begins in B minor; then at the beginning of the second verse we unexpectedly rise a full tone to C♯ minor, before returning to B minor for the second chorus.

The song has an unsettled foreboding throughout, and this harmonic uncertainty adds an all-to-brief moment of hope, and operatic levels of drama.

Skip to 1:30 – it's pure Wagner.

Queen - The Show Must Go On (Official Video)