Love Island and classical music: what's been played on series five of the ITV2 show?
27 July 2018, 09:23 | Updated: 22 July 2019, 16:59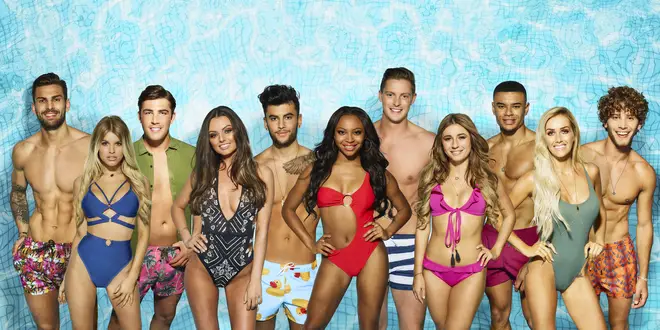 Love Island playing classical music? It's true. From dramatic film themes to accompany brutal recouplings (we're looking at you, Josh and Kaz) to soothing Debussy at bedtime, here are all the times classical music featured in the Love Island villa.
We've noticed that a few pieces of classical music have cropped up in Series Four of Love Island, 2018. Here are all the pieces they've used so far.
WARNING: This article may contain spoilers.
James Bond Theme – Norman

The James Bond theme crept into the first Weekly Highlights Show (episode 6) on Saturday 9 June. Composed by Monty Norman and arranged by John Barry, the theme was credited to Instrumental Champions, who arrange instrumental versions of hit tunes. It was the perfect accompaniment to a dramatic first recap, in which snakey Adam stole Kendall from Niall, then proceeded to ditch her for Rosie. Nice one, pal.

Hedwig's Theme - John Williams

The producers on the first Weekly Highlights Show seemed to love film music as much as Jack loves Dani (aww). Because just two tracks after the James Bond, they used the ever-popular 'Hedwig's Theme', composed by John Williams for Harry Potter.

Harry Potter and the Sorcerer's Stone Soundtrack - 19. Hedwig's Theme a.k.a Hedwig's Flight

Time – Hans Zimmer

They're at it again... in episode 12 on Friday 15 June, Love Island played 'Time' by Hans Zimmer, performed by London Music Works. Zimmer's title track from Inception is intense and threatening – the perfect choice as the islanders were under pressure to vote off the villa's 'least compatible couple'.

Hans Zimmer - Time (Inception)

Dietro Casa – Ludovico Einaudi

In a moment of heartbreak, is there anything more poignant than the music of Einaudi? As Laura's heart was broken by the new romance between Wes and Megan on 27 June, episode 24, we heard the Italian composer's beautiful piano melody 'Dietro Casa'.

Ludovico Einaudi - Dietro Casa

Rise – Hans Zimmer

Some might think it over the top to use the terrifyingly dark Batman theme to accompany the boys' journey back from Casa Amor to the villa – but not these playlist pros. As the girls waited to find out if their partners would return with a new girl or stick with them, we heard the life-affirming 'Rise' from Zimmer's soundtrack to The Dark Knight Rises.

The Dark Knight Rises - Rise - Hans Zimmer

Lost But Won – Hans Zimmer

We're starting to see a bit of a pattern here… in the same episode (29) on 2 July, Zimmer's 'Lost But Won' from Rush was played out as Georgia waited to see if Josh had stayed loyal to her. Spoiler: he hadn't. Yikes.

Soundtrack Rush. Hans Zimmer. 23.- Lost but Won

Bloodstream – Tokio Myers

As the islanders reeled from the shock dumping of Adam, new Alex, new Ellie and Darylle (episode 33, Friday 6 July), we heard pianist Tokio Myers' track 'Bloodstream', a medley of Debussy's 'Clair de lune' and Ed Sheeran's track of the same name, which contains the appropriate lyrics: 'So tell me when it kicks in'.

A-Team Theme – Mike Post

In the most recent Weekly Hotlist on 7 July (episode 34), John Swihart played a rendition of Mike Post's theme from The A-Team. Fun, upbeat and lovably old-school, it was the perfect tune to break up a largely pop-oriented playlist.

The A-Team Full Theme Tune

La donna è mobile – Verdi

Our favourite choice so far: as the boys showed off their culinary skills and impressed their partners with a three-course meal on 8 July (episode 35), their cooking was accompanied by 'La donna è mobile' from Verdi's opera Rigoletto. Translated as 'women are fickle', could it have been a subtle reflection of Adam's reluctant love triangle with Georgia and Laura? We think so.

Rigoletto La Dona e mobile

Experience – Einaudi

Grace and Frankie were subject to a shock dumping – a cruel shock for Samira. And as ever, heartbreak called for the tragic tones of Ludovico Einaudi. In this case (episode 36, 9 July), we heard the super-minimalistic 'Experience' from his album In a Time Lapse. 'Waterways' from the same album also featured earlier in the episode.

Ludovico Einaudi - Experience

Divenire – Einaudi

There he goes again. Einaudi got a few more royalties when 'Divenire' was played in episode 53 (26 July) as the opening song. We also heard his 'Elements' and 'Petricor' in the same few opening minutes of the episode. What is it about minimalist piano music that makes for such a great tension-builder?

Ludovico Einaudi - "Divenire" - Live @ Royal Albert Hall London

Dance of the Sugar Plum Fairy – Tchaikovsky

An unexpected choice – but a great one. Just before Dani and Jack went on their very romantic hot air balloon date in episode 53 (26 July), they furtively left the house at 5am to the tune of Tchaikovsky's Dance of the Sugar Plum Fairy.

Married Life – Michael Giacchino

And what could be more perfect to accompany a hot air balloon ride than Michael Giacchino's sob-worthy score from Up? A lovely choice for Jack and Dani – nice one, Love Island producers.