10 reasons you should definitely be in a relationship with a classical musician
30 August 2018, 17:32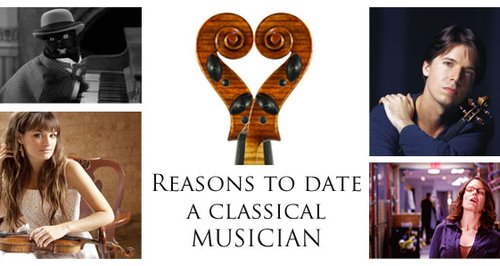 Surely it should be everyone's dream to shack up with a musician - all that passion, talent, excellent contacts and free tickets to stuff… what's not to like?
1. The passion

Uh-oh, it's contagious! Even if you haven't got time for an artistic temperament, you have to marvel at it. All you have to do is convince your musician partner to get as passionate about cleaning dishes and leaving the bathroom in a fit state as they do about Mahler symphonies.

2. If you're a musician too, it's perfect

Are you a musician used to having an erratic schedule, the pressures of which no-one seems to fully understand? You've just found the other half of your puzzle.
3. Useful for family functions

Do you want to bring someone home that your parents are immediately going to like? Bring a musician. Just think - your family Christmas parties will now have someone to play the piano for carol singalongs!
4. Impressive in pub quizzes

It's time for the music round, and your new other half has just recited the keys of each Beethoven symphony. You have won at life (and the quiz, obvs).
5. Immediate cool

Musicians make a great first impression. "What do you do?" a suspicious friend will ask of your new squeeze. "I'm a musician,' they'll reply, with a whip of their perfectly coiffed musician hair. *swoon*


6. Impeccable record collection

If you're fortunate enough to have a musically omnivorous other half, you'll get a serious education. And most of it will probably be free.


7. Free tickets

This is a huge bonus. Want to see your favourite orchestra? Your new partner will almost certainly have shared a drinking session with someone who knows someone in the PR department looking after that particular concert, and your entry will be assured.


8. You'll meet famous people

Classical musicians get everywhere. They're asked to play as backing musicians for the stars, then they get invited to after-parties, which means that YOU get to go to Stevie Wonder's house for a drink*. (*Not guaranteed, other celebs may be more available.)


9. They have excellent timing

You know that impeccable timing required for a successful musical performance? Musicians can do that with life events too.


10. That musician-y musician face that they do when they play

You know the one.