The 7 noisiest moments in classical music
19 June 2020, 09:25 | Updated: 19 June 2020, 11:54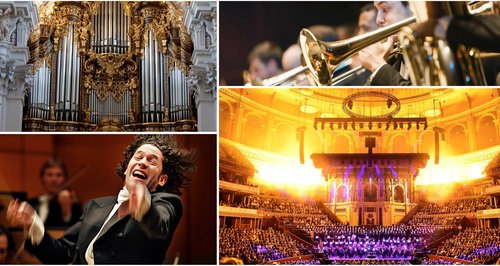 Classic FM's charity event of the year, Global's Make Some Noise, is here! To celebrate, here are the loudest, biggest, whoppingest noises in classical music, from epic fortes to ridiculously large organs. And cannons. Lots of cannons.
1. Tchaikovsky's cannons
The ultimate musical indulgence. If mere instruments aren't loud enough for you, it's time to bring in the military.
2. Ligeti: The Devil's Staircase
It might only be written for solo piano, but crumbs-a-crikey this piece is loud. In fact, Ligeti goes as far as putting eight (8!) forte markings in one section. For reference, Tchaikovsky's cannons only had four fortes. The wuss.
3. Holst soundtracks war
It's common knowledge that war is generally quite loud, but space is pretty quiet. Well, Gustav Holst didn't give a fig for scientific inconsistency, so he set about writing one of the loudest pieces in classical music – 'Mars, The Bringer of War'. Worth it for the trouser-rumbling final note alone.
4. The world's biggest orchestra
Last year, seemingly everyone in Australia who could hold an instrument clubbed together to form the world's largest orchestra. Here's the alarming sound of over 7,000 people playing 'Waltzing Matilda'.
5. A load of ship horns playing Strauss
Because why not.
6. The world's biggest organ
The Midmer-Losh organ in the Atlantic City Convention Hall is officially the world's biggest man-made musical instrument, and it's got the volume to match. Here it is, smashing out some Bach loud enough to be heard in space.
7. Manowar play 'Nessun Dorma'
Metal legends Manowar have officially held the record for 'world's loudest band' on two occasions (in 2008 they hit the 139 decibel mark during a soundcheck). Here they are taking on Puccini's 'Nessun dorma'. Make sure you stick with until the end – you can imagine exactly what this sounds like, but it's still tremendous.
Global's Make Some Noise is a national charity that helps to change young lives, brought to you by eight of the best-loved commercial radio stations in the UK: Heart, Capital, Capital XTRA, Classic FM, Smooth, LBC, Radio X and Gold.