These are the most heart-wrenching break-up songs in classical music
14 December 2017, 17:24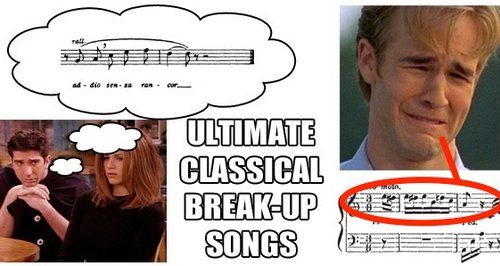 Have you gone through the agony of ending a relationship? Then you need this: classical music's most brutal, painful and sad break-up songs.
For when your proposal is thrown back in your face

Beethoven - 'Für Elise'

Have you ever proposed to someone only for them to say 'no' and marry someone far wealthier and better-dressed? Beethoven has. He popped the question to one of his piano students, Therese Malfatti, in 1810, but she completely blew him out for Wilhelm von Drossdik. Beethoven's response? Articulate that sense of rejection and longing in one of the most famous piano works ever.
For when someone else gets there first

Brahms - Piano Trio No. 1

Just listen to the opening cello melody here. If it doesn't make you want to collapse on the floor and do some serious nose-goop crying, then you've got nothing inside your heart. Brahms wrote it a few months after meeting Robert and Clara Schumann, but like a total third wheel Brahms became obsessed with Clara and couldn't keep quiet about it.



For when you're dividing up all your stuff

Puccini - 'Donde lieta usci' from La Boheme

Sparky starcrossed lovers Rodolfo and Mimi have had a fight because of Mimi flirting with other men. Or that's what Rodolfo says, anyway - the real reason he wants to separate from Mimi is because she is very sick and he can't handle the thought of her dying. (Weird logic, buddy, but whatever.) He tells the truth to his friend Marcello, but Mimi overhears him and, after Marcello leaves, she asks him to return all of her possessions.


For when your love is unrequited

Berlioz - Symphonie Fantastique

When Hector Berlioz fell in love with Irish actress Harriet Smithson, he wrote her a series of impassioned letters to express his feelings. She didn't answer any of them, so he instead wrote an entire symphony to show her just how he felt. He also took a whole bunch of opium to try and take his mind off it, but that's not recommended.

For when you just can't work out why it has to end like this

Verdi - 'Addio del passato' from La Traviata

No-one does break-ups like opera - so here's one for everyone who's left completely baffled by their break-up. Violetta is about to die (remember, it's an opera - everyone's about to die). She receives a letter from her confused S.O. Alfredo's father saying that he knows why she lied about her love for him and is coming to her - BUT SHE KNOWS HE WON'T MAKE IT IN TIME. OH MAN. She sings him this farewell…

For when you're not strong enough to do the right thing

Puccini - 'Addio, fiorito asil' from Madam Butterfly
The ridiculously-named Pinkerton comes to Butterfly's house to try and say goodbye for the last time, but decides that he simply can't handle it. It's too darn painful. So instead he sings a song saying goodbye to the house he and Butterfly spent so many happy times in.



And for when you just can't carry on

Rachmaninov - Piano Concerto No. 2, second movement

Rachmaninov spent most of his life happily married. Odd choice for this list, no? Well, just because he was basically fine in the love stakes, it doesn't mean he didn't know how to write perhaps the ultimate classical break-up piece. Listen to that melody - familiar? OF COURSE IT IS, it's Eric Carmen's 'All By Myself'! Without even knowing it, Sergei made audible the despair particular to anyone going through the suckiest of break-ups. Cheers, you emotional brute.